Meet Your Admission Counselor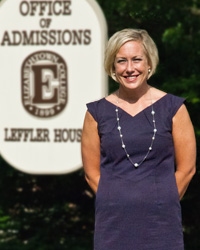 Debi Murray
Associate Director of Admissions
murraydh@etown.edu | 717-361-1400
Focuses on: Tuition exchange officer
Travel territory: Dauphin, Lebanon and Lancaster Counties in PA. I also review applications for states west of PA and south of DC.
Favorite place on campus: the Dell.
Best thing about my job: counseling prospective students and parents through the college search process.
Favorite tradition on campus: Scholarship and Creative Arts Day.
Favorite quote: "Be the best that you can be."
More about Debi
"I've been an admissions counselor for almost 20 years. I love Elizabethtown because of its sense of community. My husband is a member of the Elizabethtown faculty, and we have two kids. In my spare time, I help coach the women's volleyball team at the College, which I love.  I also enjoy running, and I've done eight half-marathons and four marathons.  I look forward to working with you in determining if Elizabethtown College is the best fit for you."