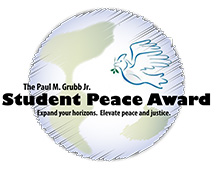 Paul M. Grubb, Jr.,
Student Peace Award
Deadline: October 1
Application - Jayweb Login Required
The Paul M. Grubb Jr. Student Peace Award is an annual award offered by the Elizabethtown College Alumni Peace Fellowship to aid students in spreading peace and justice to the larger world.  Paul M. Grubb, Jr. was an alumnus of Elizabethtown College ('55), a conscientious objector, and a committed advocate for peace. He died of a rare form of cancer in 1985 at age 53. In 2008, his widow Lavonne established the Paul M. Grubb, Jr. Student Peace Award to honor and encourage the kind of work in which he believed so deeply.
To be eligible for this award, you must create a proposal for a service or research project focused on peace and justice objectives. The winner will receive a $2,000 award to help him or her accomplish their goals.
Proposal tips:
Take time to think through your proposal with care.
Highest consideration will be given to those showing evidence of thought, clarity, and specificity.
Avoid vague generalizations.
A winning application could mean a pivotal experience in your life.  The more you put into it, the greater the return.
For advice on the your proposal you may wish to contact: 
Erika Fitz, 

Program Coordinator, 

Susquehanna Valley Ministry Center, fitze@etown.edu, 

717-361-1450

Michael Long, Associate Professor of Religious Studies and Peace and Conflict Studies - longm@etown.edu, 717-361-1240
Jonathan Rudy, Global Peacemaking Scholar-in-Residence - rudyje@etown.edu, 717-361-1995
Established Programs
Students may either propose a project of their own making or work in an established program. The following organizations offer excellent opportunities for short-term internships and volunteer work related to peacemaking: