The Economics Program
Economics looks at how individuals, firms and societies use limited resources to achieve various goals, and gives you an understanding of the world around you and the broad issues that affect you every day. Students in an economics program learn about economic theories and institutions, develop communication skills, and acquire an understanding of research methods.
The economics major at E-town includes microeconomics and macroeconomics, mathematical economics, probability and statistics, econometrics, and calculus. Economics students at E-town are guided through their four years by highly qualified professors who have a history in research and practice in the field. Our students graduate fully prepared for careers and graduate programs in economics and business. With a program located in south-central Pennsylvania, our Economics students have access to some of the largest markets on the East Coast, many easily accessible from campus.
Why Study Economics at E-town College?
E-town has much to offer. We are ranked highly in U.S. News & World Report's Regional Colleges in the Northeast, and in Brookings' Value-Added Report based on alumni salaries. We have several student clubs for economics students, including Omicron Delta Epsilon, Enactus (formerly SIFE), which won the Northeastern Regional Finalist Award at the national competition 21 years in a row, and business honor societies.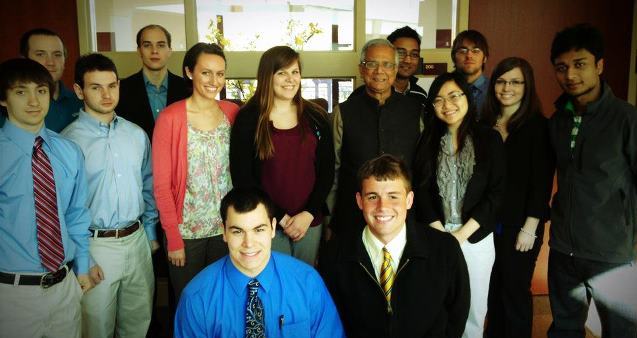 Elizabethtown College economics students with Nobel Laureate Muhammad Yunus on campus.

The opportunities don't end there. Though our Economics major program is located in Pennsylvania, you can study abroad in Europe, Asia or Latin America for a semester or even a year, and participate in short-term study tours to Geneva, Prague and China. No matter how rigorous the course load, students at E-town can always make time for traveling abroad even if it's only for a few weeks. From semester-long programs, to short-term study trips through the Department of Business, you'll be sure to find a program that lets you experience and learn economics in a foreign setting. Our department also sponsors trips to the World Bank in Washington, D.C., and the Federal Reserve Bank in Philadelphia.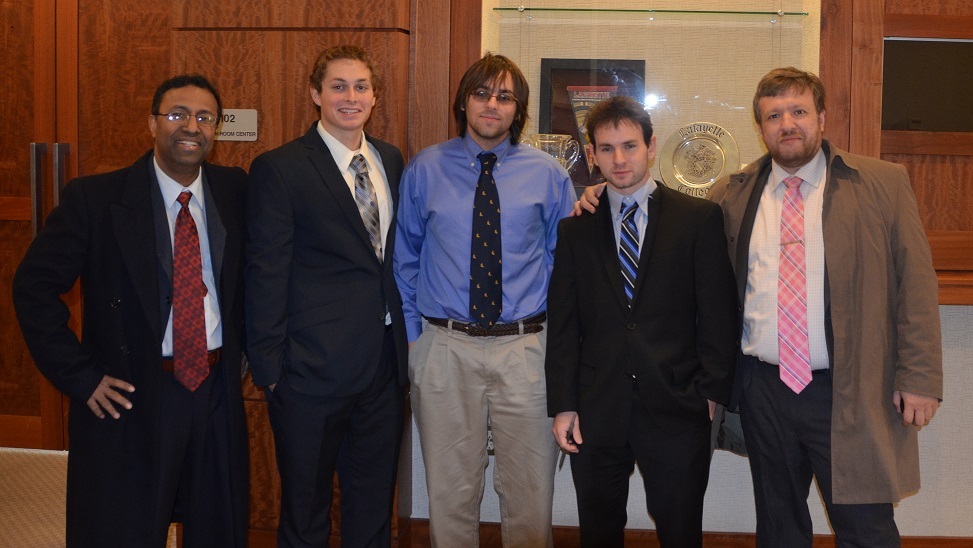 Elizabethtown team at Fed Challenge Competition.


If you need something to do while you're not off exploring the world, there are plenty of chances to do something meaningful while on campus. Most E-town students conduct research with their professors at some point during their four years. Whether that is an Independent Study, or an Honors-in-the-Discipline project, economics students have numerous opportunities to work with faculty on research projects and present their findings at annual conferences at E-town and elsewhere. You could also get published in journals and other publications.
We place a lot of emphasis on real-world learning and practical experience to best prepare our students for life and work after graduation. If you are interested in finance, you will have the opportunity to manage a real investment portfolio. The Trostle Investment Portfolio is designed to provide experience with managing an investment fund for the college. This will include creating and managing a diversified portfolio of stocks.
What can you do with an Economics degree?
A Bachelor of Arts in Economics prepares students for entry into the business field, the public sector, and graduate studies in business, law and economics. The American Economic Association provides extensive data on salaries and careers in economics.
E-town business and economics students enjoy high placement rates after graduation. They are employed at a wide range of companies, and have obtained MBAs, JDs and PhDs from top-ranked universities.
Learn more about the Economics major
Interested in sitting in on a class, meeting the Economics faculty and talking to current students? Schedule a visit to E-town College! In addition to getting a glimpse of department life, you'll be able to take a tour of our 200 acre campus and facilities!
---
2009 Carper Lecture by Nobel Laureate Joseph Stiglitz