Students Place 1st at Rise 13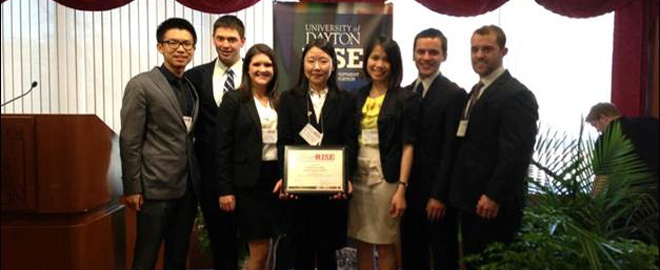 RISE 13: from left to right, Tun, Min H; Verdelli, Brian M; Setlock, Caitlin M; Neuhauser, Emma H; Phan, Ly V; Good, John A(He goes by "Austin"); Wissler, Justin T
In an effort to pursue more real world learning experiences for our students, Dr. Emma Neuhauser took six of our business students to compete in the RISE 13 investment portfolio conference.  Our students did an outstanding job and finished in first place. It should be noted that they competed against the likes of Harvard, Stanford, NYU, and over 200 other schools. 
---
RISE (Redefining Investment Strategy Education), is the largest and longest running student investment conference in the world.  This year, RISE 13 featured presidents (Dennis P. Lockhart, president and CEO of the Federal Reserve Bank of Atlanta, and Charles L. Evans, president and CEO of the Federal Reserve Bank of Chicago) expressing confidence in the recovering economy during a free-flowing conversation with Bloomberg Radio's financial reporter Kathleen Hays and students from around the world.  In a recorded message, Federal Reserve Chairman Ben Bernanke, who keynoted the RISE forum in 2005, talked to students about the importance of financial literacy. "Among the lessons of the recent financial crisis is the need for virtually everyone — both young and old — to acquire a basic knowledge of finance and economics," he said.
CEOs from some of the most prominent firms in the finance industry, such as Ariel  Investments (Mellody Hobson), BlackRock (Robert S. Kapito), TD Ameritrade (Fred Tomczyk) and TIAA-CREF (Roger W. Ferguson, Jr., Ph.D.), as well as the chief investment strategists and chief economists from firms such as Barclays (Barry C. Knapp), Mainstay Capital Management, LLC (David Kudla - Executive Director CEO & Chief Investment Strategist), Charles Schwab (Liz Ann Sonders), Federated Investors (Philip J. Orlando, CFA), Mesirow Financial (Diane C. Swonk), Oppenheimer (Dr. Jerry Webman) and TheStreet (Stephanie Link, CIO & Co-Portfolio Manager), plus representatives from Barron's (Edwin A. Finn, Jr.Editor & President), Bloomberg (Kathleen Hays), CNBC (Steve Liesman, Senior Economics Reporter), FOX Business (David Asman) and other financial media all provided insightful first hand discussions and opinions on the current financial and economic issues.
Participants to RISE 13 include professionals, students and professors from all over the world including China, Canada, Germany, France etc. besides USA representing group of schools consist of Harvard, Stanford, New York University, Fordham, Nanjing University(China), Simon Fraser, University of Waterloo, UoT etc.
More than 200 programs nationwide allow students to make investment decisions with real portfolios. Among schools made to the final round of presentations including: Cleveland State University, James Madison, New Jersey City University, Austin College, Alfred University, Xavier University, The University of Wisconsin-Milwaukee, Shippensburg University of Pennsylvania, University of North Dakota, Elizabethtown College, Ashland University, Belmont University, University of Mount Union, California State University, Northridge, Northeastern University, Simon Fraser University, six teams of finance students who learn by managing real money distinguished themselves in the University of Dayton's 13th annual international student portfolio competition.
The funds recognized represent first-place winners in each of six investment style categories:
Growth: Student Investment Management Group — New Jersey City University, Jersey City, N.J., Bernard McSherry, advisor.
Value: Undergraduate Student Portfolio — California State University, Northridge, Northridge, Calif., G. Michael Phillips, advisor.
Core: Trostle Investment Portfolio — Elizabethtown College, Elizabethtown, Pa., Randy Trostle and Emma Neuhauser, advisors.
Balanced: SIAS Fund — Simon Fraser University, Vancouver, British Columbia, Derek Yee, advisor.
Alternative:  Green & Gold Fund — University of Alabama at Birmingham, Birmingham, Ala., Jacob Gelber, advisor.
Fixed Income: Roland George Fixed Income Fund — Stetson University, DeLand, Fla., K.C. Ma, advisor.
For the presentation, each team was given 15 minutes to make its presentation, followed by a 10-minute Question & Answer session.  The  presentations focused on our portfolio strategy and how it was carried out.