Meet our Faculty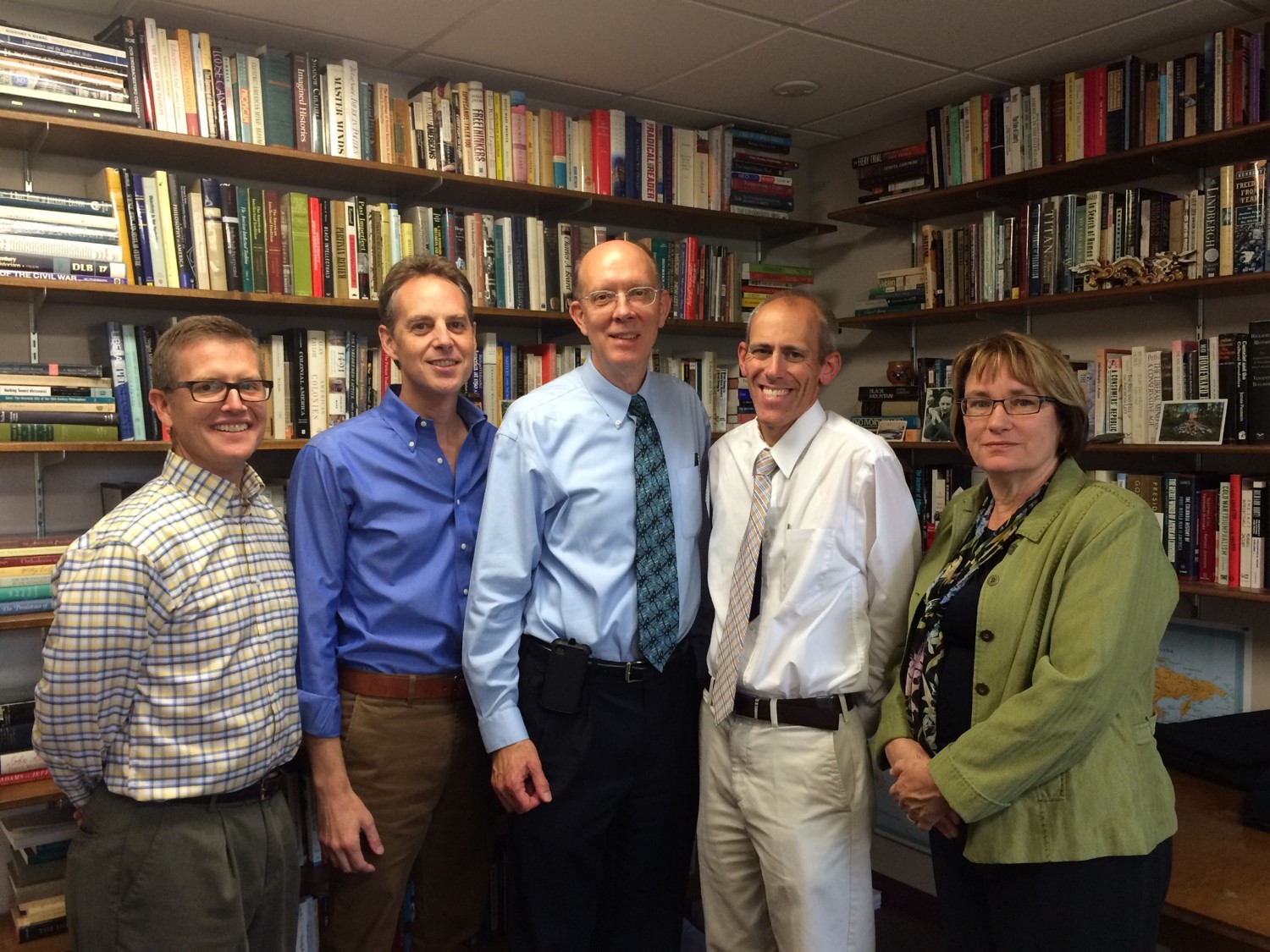 David Brown
Professor of History, Department Chair
brownds@etown.edu | 717-361-1249
David Brown, the Raffensperger Professor of History, offers courserwork in American culture, intellect, and historiography, as well as introductory classes in early and modern American/U.S. civilization. His abiding interest is in the connection of ideas--religious, literary, political and economic-- and how they play out over a broad cultural canvas. His publications include Richard Hofstadter: AN Intellectual Biography (2006, nominated for a Pulitzer Prize by the University of Chicago Press) and Beyond the Frontier: The Midwestern Voice in American Historical Writing (2009 UCP).  He is currently completing Paradise Lost: A Life of F. Scott Fitzgerald.
David Kenley
Professor of History
kenleyd@etown.edu | 717-361-1238 | Faculty Website
Dr. David Kenley (Ph.D. University of Hawai'i, M.A. University of Utah, B.A. Brigham Young University) is originally from Salt Lake City, Utah, but lived for many years in West Virginia, Hawaii, and the Republic of China in Taiwan. Dr. Kenley has been at Elizabethtown College since 2004. His research focuses on the history of Asia, particularly modern China. He is the author of New Culture in a New World (Routledge Press) and other works dealing with Chinese intellectual history and diasporas in world history. He is currently writing a history of the Church of the Brethren missionaries in China in the early twentieth century. Dr. Kenley's family, including his wife, Wendi, and their three children, currently reside in Elizabethtown, PA and enjoy skiing, hiking, and traveling. 
Brian Newsome
Associate Professor of History, Assistant Dean for General Education & Assessment
newsomewb@etown.edu | 717-361-1251 | Curriculum Vitae
Dr. Brian Newsome is Associate Professor of History, College Registrar, and Dean for Curriculum and Assessment. He earned his Ph.D. from the University of South Carolina and teaches modern European, Middle Eastern, and North African history. Dr. Newsome specializes in the urban and religious history of nineteenth- and twentieth-century France. His dissertation led to articles in French Historical Studies and French Politics, Culture and Society, among others, as well as his book on French Urban Planning, 1940-1968: The Construction and Deconstruction of an Authoritarian System (New York: Peter Lang, 2009). More recently, Dr. Newsome has been analyzing French Catholic organizations, leading to articles in Historical Reflections/Réflexions historiques (which he serves as co-editor) and in Transaction Publishers' series Religion and Public Life. His current project, which McGill-Queen's University Press will publish in 2016, is a new translation and annotated edition of Invasion 14, Catholic novelist Maxence Van der Meersch's account of the German occupation of northern France during World War I. In 2014 Dr. Newsome won the New York State Association of European Historians' Triennial Charles R. Bailey Memorial Prize for best journal article. He received the award for "The Women of the Pavillons: A Case Study," which appeared in Historical Reflections/Réflexions historiques in the Winter of 2012. Dr. Newsome is also the recipient of several grants, including a Fulbright Grant, as well as numerous awards for outstanding teaching and service.
Gabriel R. Ricci
Associate Professor of Humanities
riccigr@etown.edu | 717-361-1139
Gabriel R. Ricci has taught in the History and Philosophy Departments at Elizabethtown College since 1996, and served as the chair of the History Department from 2004 to 2011. Ricci teaches courses in The Ancient World, the Enlightenment, and Applied Ethics. He pursued graduate work at the University of Hamburg and Temple University; where after a post-doctoral teaching fellowship he taught for ten years. His early research interests were in German historicism, Giambattista Vico, Ernst Troeltsch, Martin Heidegger and Continental Philosophy. This concentration led to his translation of Victor Farias' Heidegger and Nazism (Temple University, 1989); the publication of Time Consciousness, The Philosophical Uses of History (Transaction Publisher, 2002) and The Tempo of Modernity (Transaction Publisher, 2011). He has been the editor of the annual series Religion & Public Life (Transaction Publisher) since 1999 and he has just been appointed the editor of a new annual series, Culture and Civilization (Transaction Publisher). Current research interests address the relationship between nature and norm in the ancient world and the intersection of European philosophy and literature in the early twentieth century.
Carl J. Strikwerda
President, Professor of History
strikwerdac@etown.edu  |
Carl J. Strikwerda is professor of history and president of Elizabethtown College and teaches a course every fall on "Peace and War in a Global World". He previously served as Dean of Arts and Sciences at the College of William and Mary and Associate Dean at the University of Kansas. He received a B.A. from Calvin College and a Ph.D. from the University of Michigan, both in history. Besides articles in the American Historical Review, Journal of Social History, and many other journals and edited volumes, he has published books on Belgian labor history, international migration, and consumer cooperation around the world. His most recent publication is "Imagining a Global World: Imperialism, Nationalism, and the Tragedy of Great Power Politics In the First Era of Globalization, 1870-1914," which appeared in Cosmopolitanism and the Global Polity, ed. Gabriel Ricci, Volume 5 in the series Culture and Civilization (New Brunswick, N.J.: Transaction Publishers, 2012). A new article, "World War I in the History of Globalization," is forthcoming in the journal Historical Reflections/Reflexions historiques. President Strikwerda has served as an historical consultant to the National World War One Museum in Kansas City, Missouri. He is a member of the Board of Directors of the Lancaster County Economic Development Company, public radio and television station WITF in Harrisburg, and the Presidents' Trust of the American Association of Colleges and Universities. When not serving as president or being an historian, he bicycles on the Conewago Trail.  
Faculty Emeriti
Paul Gottfried
Raffensperger Professor of Humanities Emeritus (U.S. and Europe)
J. Kenneth Kreider
Professor of History Emeritus (Russia and Europe)
Richard Mumford
Professor of History Emeritus (U.S. and Japan)
H. Herbert Poole, Jr.
Professor of History Emeritus (Britain)
Bela Vassady
Raffensperger Professor of History Emeritus (Africa and African-American)
Tom Winnpenny
Professor of History Emeritus (United States)