About Religious Studies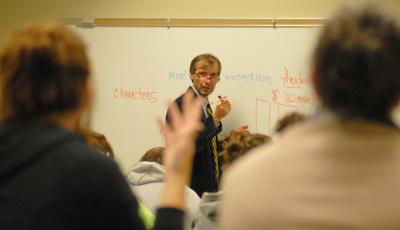 The Department of Religious Studies at Elizabethtown College provides its students—whether they are majors, minors, or simply taking one course—with a wide range of perspectives and a wealth of information on one of the most controversial and fascinating topics known to humanity: religion.
Our Religious Studies Department reflects—but is not confined exclusively to—the heritage of the Church of the Brethren in its coursework on such traditional topics as the Bible, the history of Christianity, and courses that explore the various ways in which religion can serve to promote peace and justice in the human community, nonviolent methods for transforming conflict, and the essential worth of all human beings.
Our course offerings also extend beyond this heritage to encompass a wide range of religious traditions, with extensive focus on the religions of Asia, as well as coursework on new religious movements and topics such as religion and nature, religion and violence, and the psychology of religion.
Majors in religious studies are prepared for theological study and ministry training at the graduate level, to pursue graduate study in religion, and to make meaningful contributions in whatever vocations they feel called to pursue. Religious Studies courses offer all students, even those who are pursuing other majors, the opportunity to explore the religious and spiritual dimensions of life, culture, and society. Our graduates have gone on to successful careers both in teaching and ministry, but also in diverse fields such as law and public policy.