Blue Bean Cafe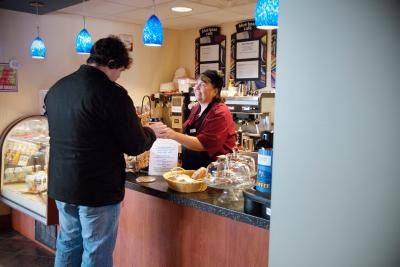 Enjoy a variety of gourmet coffees, teas, ice cream treats, delicious pure fruit smoothies, and an assortment of baked treats, featuring the famous Elizabethtown College carrot cake     
Looking a special birthday surprise for a friend? Why not consider the Blue Bean Birthday Cupcake package featuring a specially decorated cupcake in a festive box with a fun birthday noisemaker, and a birthday tag, all tied up and ready to present to someone special!  ...also, don't miss the weekly homemade baked good...and why not try a Bean Blaster - A delicious ice cream creation with your choice of mix -ins, only $3.99! 
 The Blue Bean will be closing for the Thanksgiving Break on Wednesday November 25th at 1:30 pm.  We will reopen on Monday November 30th.               Enjoy the break!

*Baked Goodie of the week -    For the week of November 30th, we feature gingerbread whoopie pies for $1.50 each.

Smoothie of the month - for November, we feature the Pumpkin Pie Smoothie only $2.75 each! 

The Blue Bean is located on the first floor of the Campus Center and is open during the academic year Monday through Thursday from 7:45 a.m. until midnight, Friday from 7:45 a.m. until 7 p.m., and Sunday from 4 p.m. to midnight.