Meet the Provost
Susan Traverso, Ph.D.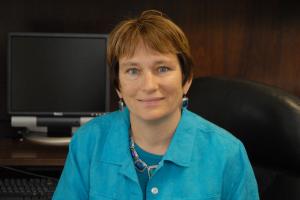 Susan has been the Provost and Senior Vice President at Elizabethtown College since 2007. She is the Chief Program Officer of the College and reports directly to the President, acting for the President in his absence, and providing appropriate leadership with other administrators.  She works closely with the Deans and provides strategic direction and oversight to the College's academic and student life programs, including those offered through the School for Continuing and Professional Studies.  She is responsible for major personnel issues related to the educational programs of the College, including faculty appointments and tenure and promotion reviews.  The Provost and Senior Vice President represents the administration on the Executive Council of the Faculty Assembly and represents the College in its relationship with the Brethren Colleges Abroad.
Dr. Traverso is responsible for advising the President on all major matters of resource allocation within the academic and student life areas of the College including construction and other capital projects, space allocation, and distribution of new positions within the faculty. She is the chief planning officer of the College and co-chairs the Strategic Planning Committee.  She chairs the Facilities Planning and Construction Committee and the Hiring Review Committee.
Dr. Traverso is a graduate of Simmons College in Boston and has graduate degrees in History from the University of Wisconsin-Madison.  A scholar of American social policy and women's history, Dr. Traverso is the author of Welfare Politics in Boston, (University of Massachusetts Press, 2003).  She has extensive experience overseas having worked in international development earlier in her career, including as a Peace Corps Volunteer in Morocco in the early 1980s.  Prior to coming to Elizabethtown College, Dr. Traverso was a member of the faculty at North Central College in Naperville, Illinois, and served as Dean of the College of Arts and Sciences at the University of Redlands in Redlands, California.  She lives in Elizabethtown with her husband, Kent Taylor, and their children Linden and Kent.