GEMS LLC
The Office of Diversity has partnered with the Office of Residence Life to create a multicultural Living Learning Community, GEMS (Growing to Empower a Multicultural Society). This community brings together students from different backgrounds under the theme of exploring social justice.
GEMS LLC's mission is to foster interactions amongst students from a variety of backgrounds and to engage in cross-cultural educational experiences. The living and learning community provides a safe environment in which students can be challenged and critically evaluated with regard to their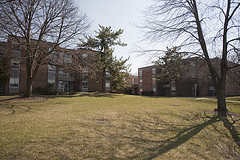 perspectives of themselves and others. The living and learning community aims to increase understanding of domestic and global diversity, and provides students with an understanding of what a cross-cultural world means on a day-to-day basis. Together, the LLC seeks to be open, honest and sensitive in examining attitudes, prejudices, and actions that undermine human dignity and perpetuate injustice.
In 2013-2014 G.E.M.S will be housed in Founders Hall.
Staff/Faculty Advisors:
Diane Elliott, Director of Diversity
Monae Kelsey, Coordinator of Multicultural Affairs and Residential Communities.