Gift Boxes and Care Packages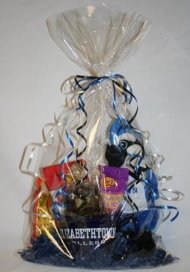 Make your Blue Jay's Day with a gift box especially designed with him/her in mind.  Choose from a variety of college student-inspired options.  From a balloon bouquet to a "Wake Me Up" gift box, we offer many different options to spoil your student!  A personalized message card is included with each purchase, and we ask that you include your message with your order so that your student will know it is from  you!  Your Blue Jay will receive a pick-up slip in their campus mailbox informing them of a package to be picked up at the Mail Services window. Orders for special delivery dates such as birthdays, get well, thinking of you must be received three business days in advance for guaranteed delivery.  Holiday and final exam gift boxes will be delivered in a timely fashion for their specific occasion at the discretion of the College Store.  Food allergies?  Consider a balloon bouquet of five balloons to brighten their day!! 
Click here to view all Gift Box and Care Package options.
Call (717) 361-3706 to place an order.