The 1st Annual Graduation Fair will be held April 2, 2013 from 1 PM -7 PM in the KAV. 
New this year - Cash & Carry Regalia- Pick up your full regalia for Commencement (Cap, Gown, Hood and Tassel) right at the Grad Fair.
Departmental information stations from all over campus will be there to answer your questions about the BIG day! Everything you need to know about Senior Week activities and Commencement in one convenient location-The KAV.
Information stations, just to name a few...


Alumni Relations-Alumni Relations, PRIDE Info, Senior Week Events.
Career Services-Tell Us Your Plans and Find Out How We Can Help You; Enter Our Raffle, Too!
Class of 2013- Class Gift Info
College Store- Announcements, Cash & Carry Regalia, Class Rings, Diploma Frames
Conestogan Yearbook
Dining Services- All Important Meal Information for Senior Week.
Financial Aid- Loan Repayment/Deferral Information.
International Student Services- Important Info for Visiting Families on Dining, Entertainment, Car    Rentals and Hotels/Lodging. Immigration Advising.
Registration & Records-Commencement Tickets, Transcript Request Forms.
Residence Life-Senior Week Applications, Tips for Leaving Campus Residences w/o incurring costs.
Enter to win some great door prizes, too! Every grad will be given a punch card at the door-visit at least five information stations, get your caps punched and drop your card in the drawing basket for a chance to WIN some great stuff! We are giving away diploma frames, regalia, padfolios, $50 Visa gift cards, alumni t-shirts and many other cool prizes.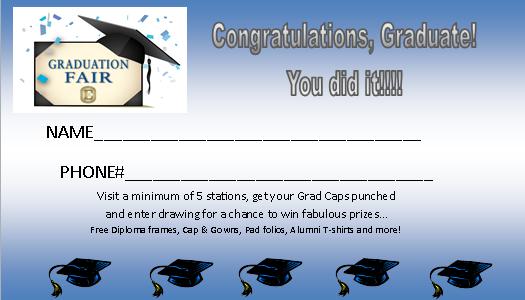 Sample Punch Card
ALL THIS AND FREE REFRESHMENTS, TOO!
Can't make it to the Fair? 
Order cap & gowns, announcements and class rings online at www.Herffjones.com/college/graduation