About Science in Motion
Science in Motion (SIM), part of the CCCE, is about helping partner schools augment their science programs. By sharing and pooling resources, the EC-SIM delivers high-tech equipment to partner schools, offers the services of a Mobile Educator, provides a staffed preparation center and organizes a professional development program for teachers.
Elizabethtown College Science in Motion provides: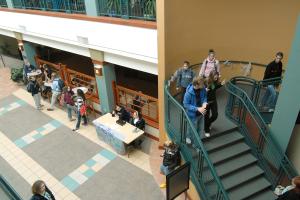 • SCIENCE EQUIPMENT that is financially beyond the reach of most school districts;
• TEACHING SUPPORT through a mobile educator and a staffed preparation center;
• PROFESSIONAL DEVELOPMENT to science teachers through summer workshops as well as a college network and necessary infrastructure for modern science training
The Elizabethtown College Science in Motion program is grant-funded through assistance from the College's Research and Planning Office. We are housed within the Center for Community and Civic Engagement and often work closely with our science-related academic departments.