First-Year Advising
The second component of the First-Year Experience is advising. Your seminar instructor will be your official advisor for the year. Once you declare a major, you will be paired with a faculty mentor in your discipline.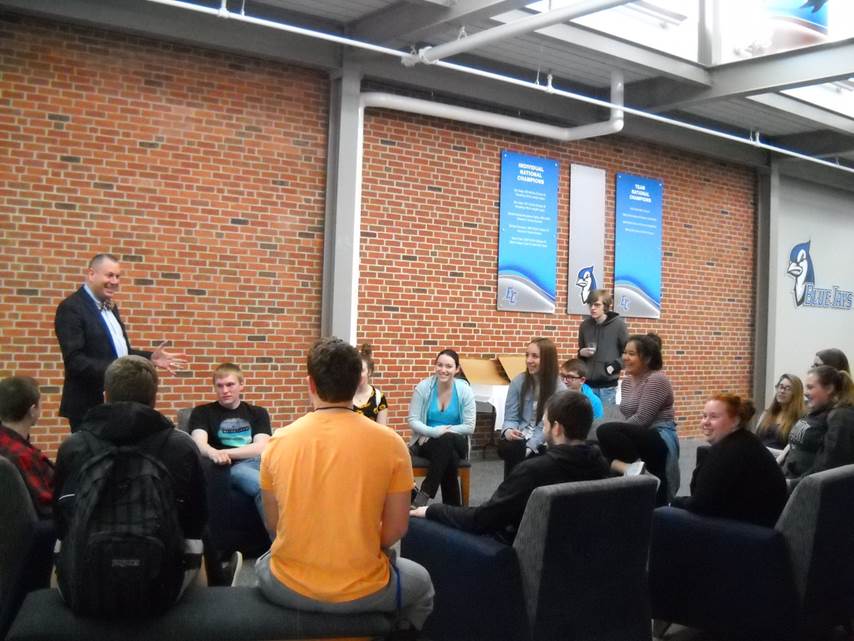 Professor Benowitz addresses his advisees 
To officially "mark" the transition from your first-year advisor to your major advisor, the Office of the Dean for Curriculum and Assessment sponsors an Advising Connections event in March. Advisors meet their new advisees at this time to officially welcome them to the department. After greeting advisees in assigned rooms, advisors and advisees proceed to one of nine central locations to enjoy punch and Elizabethtown's signature carrot cake reduced to convenient, handheld, muffin form! 
85% of students that attended the Advising Connections event felt that it helped them connect with their advisor, stating:
"I feel like it was a great opportunity to talk to the other people in your department & also the professors. It gave me an opportunity to figure out what I should be doing for the upcoming semesters." 
"I really enjoyed hearing from the head of the department and then meeting in groups with our advisors. The informal conversation made the experience more comfortable for the students who were just meeting their advisor for the first time."