Continue Your Journey At Elizabethtown College
Here at E-town, we want to make sure that you get everything you're looking for in your next college experience.
Our Transfer Decision Days are a great way for you to explore our campus, meet with members of our community, and find out what life is really like as a Blue Jay.
We have a number of campus visit opportunities throughout the year, but we encourage you to join us on a Transfer Decision Day this fall to gain information that's specific to you and your unique situation as you transition from one college to another.
You'll also have the opportunity to receive a same-day admission and scholarship decision, so be sure to bring along any application materials we require.
To register for a Transfer Decision Day, please call the Office of Admissions at 717-361-1400 or fill out the form below.
For accurate directions, enter 348 College Avenue, Elizabethtown PA, 17022 into your GPS.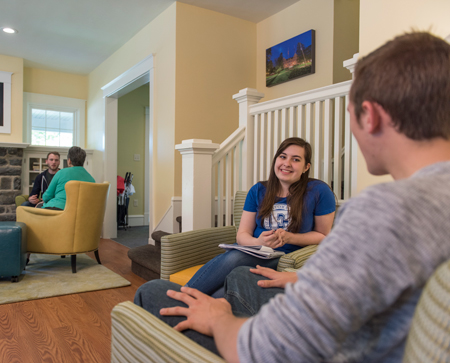 Join us for a Transfer Decision Day!
Friday, October 11

Friday, November 1

Wednesday, November 13

Tuesday, November 26

Thursday, December 5

Materials Required
Application materials required from applicants to receive an admission decision on day-of are:
A completed online application  submitted electronically prior to your visit. 
A final, official high school transcript (with graduation date) in a sealed envelope
An official college transcript(s) from all previously attended colleges or universities in sealed envelopes if copies have not been submitted to the Office of Registration and Records one week prior to your visit.
Typical Agenda
Order of agenda may vary from student to student.
Meet with an Admissions counselor
Meet with Gretchen Camp, Associate Director of Admissions and Coordinator of Transfer Recruitment, to review E-town College and the transfer process.
Tour Campus 
Please ask your tour guide for anything specific you would like to see. A residence hall room will be shown on your tour.
Lunch in the Marketplace
Meet with an academic department chair or faculty member
During this meeting, the department chair or faculty member can answer any program-specific questions that you might have. Please note: Undecided transfer students will meet with Academic Advising.
Optional Sessions:


Meet with a Financial Aid counselor.
Meet with an athletics coach or program director.
Meet with Disability Services.

Follow-up meeting with Admissions
During this meeting, you will discuss your instant admission and scholarship decision with Gretchen Camp.