Things to Consider When Choosing a College
The college search can be a long and stressful process full of campus visits, college checklists and more questions than answers. As you compare colleges on your list, you may be surprised to find more commonalities than differences. Determine the categories that matter most to you and find the college that matches your priorities. Here are some things to consider when choosing a college to make sure you find the perfect fit:
The Education
Education, of course, should be what first draws you in to a college. Research the educational foundation of the schools on your list and see what your preferences are. Some colleges streamline their curriculum by academic program, limiting your ability to study multiple areas of interests. Liberal arts colleges , on the other hand, give you the chance to explore other passions. Consider these educational elements when choosing a college:
Academic Programs
When choosing a college, it's important to make sure that it offers not only your intended major, but also secondary areas of interest. After a semester or two, you may want to pick up a minor, add a major or switch majors, so it's important that these opportunities exist. Be sure to also research the curriculum within the academic program you choose. See whether it offers courses that fit your special interests or if it provides enough variety to allow you to explore the field.
Student to Faculty Ratio
A college's student to faculty ratio will have major impacts on your educational experience. Some students prefer to blend in with the other 999 students in the college lecture room, while others prefer smaller class sizes, where they will stand out. In general, the smaller the campus, the smaller the student to faculty ratio. On smaller campuses, you may have an easier time finding your place and reaching your goals.
90% of our graduating seniors believed that their professors cared about them as a person compared to 27% nationally
Real-World Learning Opportunities
In addition to checking out coursework and classroom environments of colleges on your list, see what other educational opportunities they offer. Determine whether or not they have structures in place that ensure real-world learning opportunities. These opportunities may include:
Internships or Field Placements
Supervised Research
Portfolio Development
Study Abroad
Community Service
Not only will opportunities like these enhance your educational experience, but they may also provide you with the chance to network with professionals, impact the community and apply your classroom knowledge.
The Campus
After narrowing your list based on the educational value the colleges provide, you'll have to make decisions based on your preferred campus setting.
Location
Your location preferences may be chosen due to distance from home, your favorite city or future job opportunities. The location of the college you choose will impact your ability to find internships, how much time you spend with family and your involvement with the surrounding community.
Transportation
Whether you plan to bring your own car or rely on public transit, it is important to note what types of transportation options are available and the cost of each. If you are planning on bringing your own car to campus, be sure to check out any registration fees and parking availability on campus. Small schools are more likely to have cheaper fees and more parking available. If you do not wish to bring a car to campus, see what other types of transportation are available. See if the campus provides student transportation to train stations, airports or shopping centers. A bike share program is a great option for students who need an occasional set of wheels. 
Campus Life
In addition to a college's education and setting, campus life is a major component of your college decision. Campus life includes Community Living, student organizations, campus traditions, community activities and everything that comprises a campus community.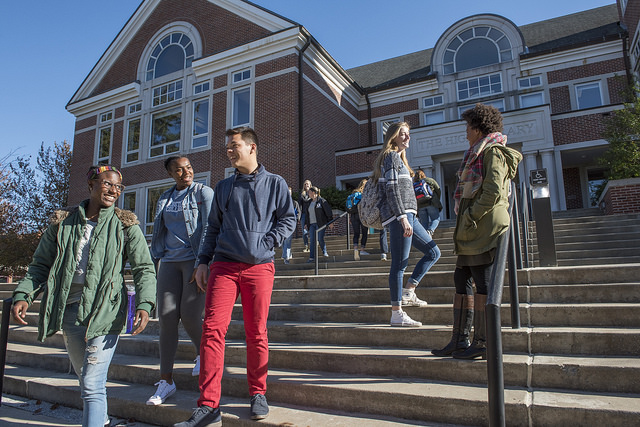 Campus Traditions
Many colleges were established 100+ years ago. Traditions and customs have continued to develop since then. Campus traditions may include sporting events, a traditional food, holiday celebrations, homecoming festivities and campus pride events. Check out the campus traditions at colleges on your lists and see how they fit with your personality.
Community Support
It is important to feel welcome and comfortable in whichever college community you choose. See what programs the college has in place to help you adjust to your new home. Visit the campuses of colleges on your list to get a taste of what it's like to be a part of their community.
The Outcomes
Although it's easy to get wrapped up into the many factors that contribute to your college decision, you should ultimately be thinking about how your college education will prepare you for life after graduation.
Alumni Network & Career Excellence
A college's alumni network should not be overlooked. Alumni serve as professional connections that can help you find internship and job opportunities. A college's alumni network may also reveal how successful the college was in preparing graduates for careers.
The Brookings Institution reported that Etown College grads had a mid-career earning of $86,500, in the top 25% of salaries nationwide.
Graduation Rate & Retention Rate
A college's graduation and retention rate can provide you with inside knowledge into the quality of education. A graduation rate tells you how successful the college was in ensuring students graduate with the degrees they pursued. A retention rate can tell you how happy students were with their education, and whether or not they chose to say at the same school for all four years.