Holiday Traditions
Blue Jays love to celebrate. In fact, we love it so much that the regular holidays aren't enough for us. We need to add our own unique holidays throughout the academic "season." Almost every month brings something to celebrate. Here's a look at the calendar of holidays here at Etown:
Convocation and All-Campus Picnic
We kick off the academic year with Convocation, a ceremony to celebrate new and returning students, faculty and staff, and the accomplishments of our fellow Blue Jays. We specifically acknowledge faculty who have achieved tenure as well as students who have earned the honor of Emergent Scholar. The ceremony in Leffler is immediately followed by the all-campus picnic where we enjoy the nice weather and delicious food prepared by our Etown Catering staff.
Homecoming
Homecoming is the biggest event of the year for many Blue Jays, whether current students or alumni who graduated many years ago. Events range from crafts – like the float-building contest before the big parade – to great food and drink at the Oktoberfest, to selling Etown swag at the Homecoming Fair on the Academic Quad. Homecoming is one of our favorites because it brings so much of the flock together on campus once again. Community is a part of the Etown tradition. We like to say we live it in everything we do, and especially in our celebrations.
Thanksgiving Dinner and Tree Lighting
The Student Thanksgiving Dinner is a beloved annual tradition for many. The faculty and staff live out our motto to "Educate for Service" by serving a traditional Thanksgiving meal to students, complete with turkey, stuffing and pumpkin pie! Directly after the dinner is our famous Tree Lighting Ceremony. Although the highlight of the night is definitely the joy of seeing the tree lit up for the first time, students also enjoy the free cookies and hot chocolate, carols, and the Christmas story.
Theme Dinner
In February, Dining Services hosts a themed dinner where they get creative with food. Each year there's a different fun, playful theme. In the past we've transformed the Marketplace into a street in New York City, a Caribbean Island, and even the Land of Oz. Stay tuned this year for Pirate Fest 2018!
TGIS
When we're in the homestretch heading towards summer, current students take a weekend to celebrate spring with Thank Goodness It's Spring (fondly referred to as TGIS). There is always a theme each year, with corresponding activities. And of course, our students celebrate with plenty of good food.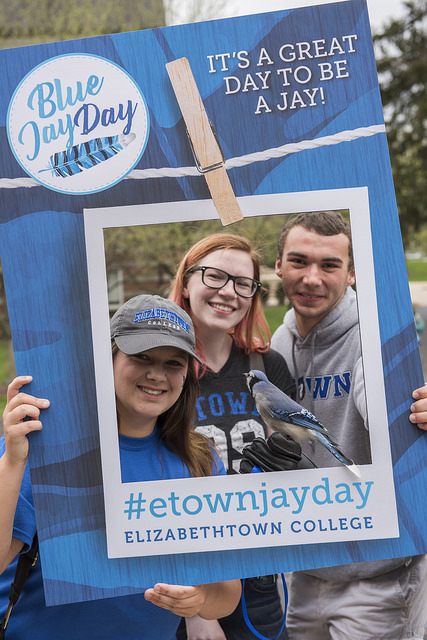 Blue Jay Day
The height of our holiday season for us is Blue Jay Day in April. This is a day where we pull out all the stops to celebrate what it means to be a Blue Jay. We take time to recognize our students' accomplishments with the Student Awards Ceremony, as well as show appreciation to our faculty and staff with "Put a Feather in Their Cap", an event where students write notes to their professors and mentors to express gratitude for their guidance. Throughout the day we have food and music, games, and social media contests to see who can show the greatest Blue Jay pride. The best part is definitely the free carrot cake, along with a chance to meet Conrad the Blue Jay in person!
Commencement
To close out the year and send our graduating students on their way, we come together one last time for Commencement. This is a time for current students to reflect on what they've learned during their years at Etown, celebrate accomplishments, and say goodbye for now to the campus community, in the hopes that they will soon return to the nest as alumni.
Blue Jays are all for celebrating traditional holidays throughout the year, and we especially like to participate in events unique to our community! From Convocation kicking off a new year to Commencement marking the end of the college journey, the campus community marks the passing of the year with events that take time to pause and reflect – and of course, celebrate.