Why Study Abroad?
At Elizabethtown College, we recognize the value study abroad experiences bring to our students: personally, academically and culturally.
Explore New Destinations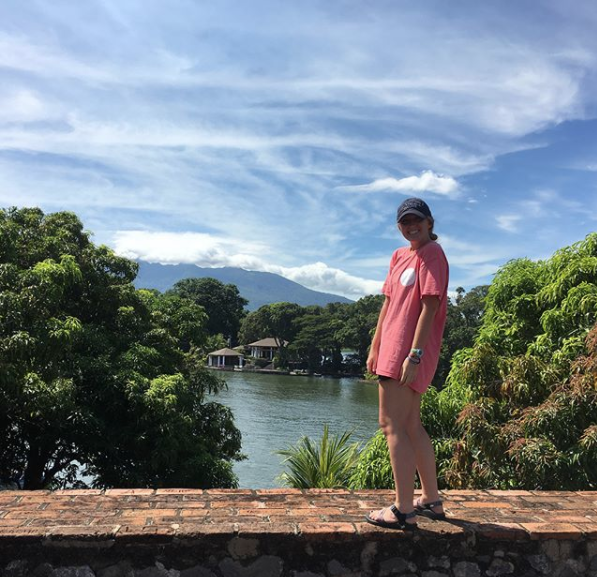 When studying abroad, you have the ability to choose a location of your choice for a semester or a short-term stay.
Junior occupational therapy major Kaitlyn Freed spent her semester in Costa Rica. Throughout her stay, she was able to explore the diverse cities and nearby attractions.
"We crossed the northern border of Costa Rica and entered Nicaragua," Freed said. "We stayed in the city of Granada, where we explored the local markets, restaurants and cathedrals. We also took a boat tour through Lake Nicaragua, also known as Lago Cocibolca, and visited la Laguna de Apoyo. Nicaragua was a beautiful country, rich in history and culture and I loved the time I spent there."
Gain Cross-Cultural Skills
Studying abroad will make you a more adaptable, open-minded and motivated individual. Being exposed to a new culture while studying abroad will help you expand upon cross-cultural skills you may not have while in the US. You'll develop informed worldviews, recognize the importance of cultural differences and feed your desire to travel.
Studying abroad is also a great opportunity to polish your language skills. While Jamie Lees, junior political science major, studied abroad in Argentina, she was able to improve her Spanish by speaking with her host mom, Lili.
As Freed and Lees explored the local cities, they gained a new appreciation for the art and culture of Central and South America.
Get Out of Your Comfort Zone
Making the decision to study abroad is courageous in itself. While abroad, you'll have the opportunity to take part in a variety of experiences that push your boundaries and encourage you to get out of your comfort zone.
In her first week in Argentina, Lees immersed herself in the local culture. She ate the local food, including a barbecue dish called parilla, and she got to know the dialect of the local people of Buenos Aires (the porteños). She also explored the Exposición Rural, an event that brings together farmers, vendors, and animals from all over the country's different provinces.
Specialize Your Learning
Study Abroad Advisor Megan Bell sees the academic value of pairing a study abroad experience with our academic programs.
"A benefit of studying abroad is to get a new perspective on your major," Bell said. According to Bell, a trademark of Etown students is seeking out experiential learning opportunities. Lees is using her cross-cultural experience to pursue an internship with a nonprofit and non-governmental organization (NGO) to connect with her political science major.
According to Bell, studying abroad is a way to confirm your career interests or find a different path if you change your mind. As our world becomes increasingly globalized, the ability to connect with people of different backgrounds is a critical skill.
Our Study Abroad Office is here to help you plan your abroad experience. We're affiliated with dozens of study abroad programs, so you have the flexibility of tailoring your experience to meet your needs and the comfort of having your transcripts transfer. See where you could go next!