President's Interfaith Challenge
We participated in this as one of the first college campus since 2011.  Our first year, we had:  
33 campus partners (office, departments, student groups)
35 community (organizations) partners or participants
24 events and programs
Total people attending or involved in events:  2,215
Trip to White House and television coverage on WGAL
White House is inviting colleges and universities to continue the program as part Civic and Community Engagement.  
http://www.whitehouse.gov/administration/eop/ofbnp/interfaithservice
We have been recognized by the former Secretary of Education, Arne Duncan (below) and Department of Education for our service.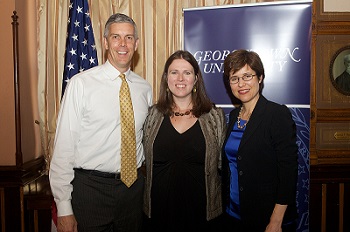 In addition, we were privledged to have IFYC President Eboo Patel as our 2013 Commencement Speaker.  His speech can be found here.