Wednesday, May 20, 2020
The Power of One Day: Day of Inspiration is a day dedicated to supporting Etown students. Click on the images below for ways you can make a difference.
Inspiring Hope
You can help to meet Elizabethtown's current and emerging learning- and scholarship-related needs and ensure that students continue to receive the support needed to work on their education goals. If your circumstances allow, we hope you'll make a financial contribution today. Learn how the new Coronavirus Stimulus Package may affect your giving at our CARES Act webpage.
Make A Gift
Your gift will support need-based financial aid, academic and student services, and other areas of immediate need. This is a crucial time in our history and you can help us make a difference. As an added incentive, all gifts of any amount received on the Power of One Day will be boosted with an additional $100 from a loyal group of Blue Jays and friends.
Thank You
A heartfelt thank you to the generous donors who have made a financial gift to support need-based scholarships and student programs, and to our loyal Blue Jay Challengers for their inspirational support.
Preliminary final total donors: 1,156
(As of 5.21.20, 12:05 a.m.)

Stay tuned for final results after all gifts have been recorded.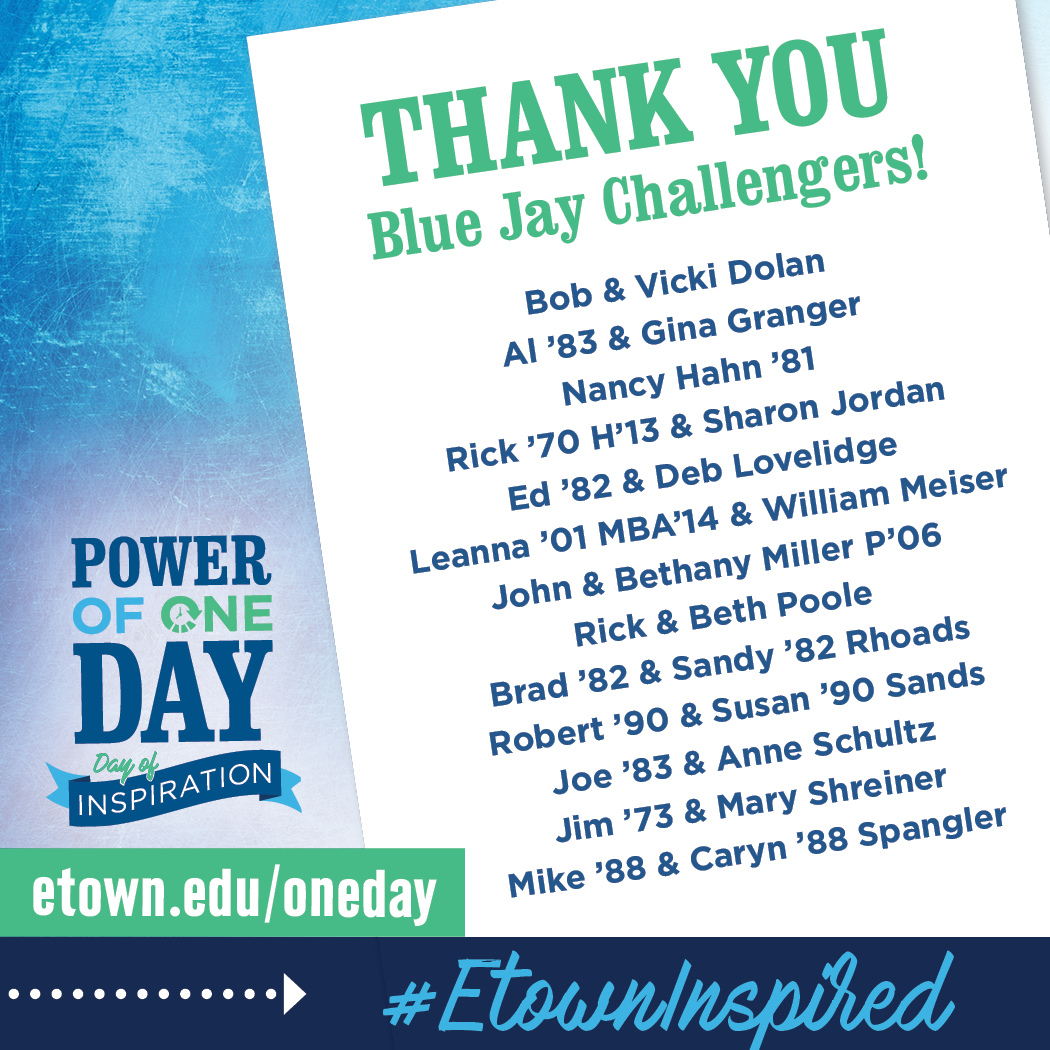 Inspiring Service
What better way to show your support of Etown than by helping promote the College! Wear your Blue Jay gear.
Hatch A Jay
Spread your love for Etown, and help us welcome new students into our campus community! Use your college experience as an example for others in your life. Connect us with other amazing students who you think will make a great fit with Etown.
Social Media
Share your Etown story with friends and family. On social media, use the hashtags #EtownCollege and #EtownInspired.
Inspiring Thanks
Words of encouragement make a difference in people's lives each and every day.
Share a Message of Inspiration
Celebrate the Class of 2020 and leave a message of inspiration! Give the Class of 2020 a proper send-off and share your congratulatory messages on our virtual message board!
Thank a Faculty or Staff Member
Was there an Etown faculty or staff member who made a difference in your life? Share your appreciation for someone who inspired you. We'll pass these submissions on to them.