Information Systems 
Your Network. Your Program. 
Bachelor's in Information Systems
Technology is embedded into everything we do, from our computers at work to the systems that control our traffic grid, and from the phone we use to stay in touch to how we consume our entertainment. But what's not as evident is how it all works seamlessly, quickly and reliably. Behind the scenes of every system and solution are information technology professionals. From those on the front line of customer support to those who keep that server room running smoothly, with a bachelor's degree from Elizabethtown College School of Continuing and Professional Studies, you'll be in-demand to help businesses and organizations leverage—or better leverage—this technology. 
You can prepare for success in this exciting technical field, gaining an understanding of data collection and communication, while expanding its global reach. From programming and probability to information architecture and ethics, your coursework will prepare you well for a multitude of positions.
Program Formats:

Classroom

Blended
Credits Required:
125
Cost Per Credit:
$555
Program Outcomes
Apply professional standards and ethics to IT solutions. Incorporate technology into accounting practices.
Demonstrate critical thinking and problem solving skills in IT solutions. Model the need for high ethical standards when conducting business activities.
Apply effective communication skills in development of IT solutions.
Utilize teamwork to manage IT projects.
Integrate historical and current knowledge into technology solutions.
Manage IT applications and technologies from implementation through maintenance.
Information Systems Degree Requirements
Accredited by the Middle States Association for Colleges and Secondary Schools, the bachelor's degree from Elizabethtown College requires 125 credit hours of academic work. Degree candidates must take at least 30 of their last 60 credits from Elizabethtown College. Credits from Elizabethtown must include at least 15 credits in the major; nine of them must be 300-400 level Information Systems courses. Students can consider adding a minor from any of the other programs offered through SCPS including Business Administration, Corporate Communication, Health Care Administration or Criminal Justice.
Are you ready to accelerate your career? Get started now with a bachelor's degree in Information Systems from Elizabethtown College.
Career Outlook
Degree Requirements for Job Postings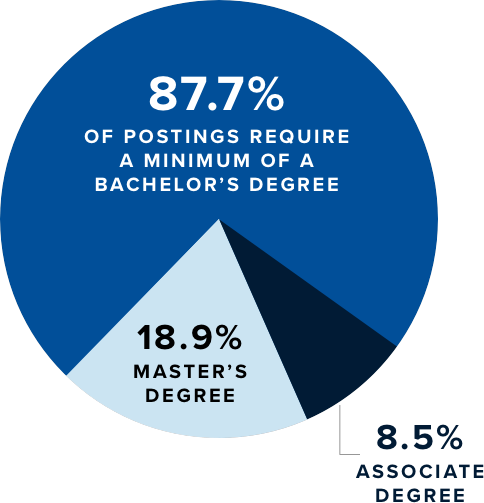 Career Opportunities for Graduates:
Software Development Engineer
Systems Administrator
Network Engineer
Applications Developer
Systems Analyst
Job Postings in the Region:
75,984
in the past 12 months
Source: Burning Glass Technologies ©
Where Our Graduates Work:
Accenture
Comcast
Deloitte
Aetna
Johnson & Johnson I would recommend Elizabethtown College. I believe it is a quality institution that offers a variety of degree programs. The courses are challenging. The facilitators are experienced professionals who care about the success of the students. Courses are offered year round allowing you to tailor the pace you desire.
When I decided to go back to earn my bachelor's degree, E-town offered me the ability to work at my pace. The program was very accommodating and the instructors were flexible and understanding of my needs working full-time as a single mother.
Each facilitator excels your knowledge and skills. The professors teach relevant material that you can apply in your current job immediately.
I wanted to make a difference and make an impact in my career. I built my foundation through the Elizabethtown College program. I also wanted to give my kids an example of a role model to give them the motivation to pursue their goals. Meet Your
Lead Facilitator
Terry Freed
Terry Freed, M.S. has instructed IT courses for over 12 years with a focus on networking, IT security and systems development. As the lead facilitator for the program, he works with school administration to develop and maintain courses that provide the necessary skills for students to learn and advance their careers within the IT field. When not teaching, he is an IT Healthcare executive and has led high-performing teams for over 30 years.
We're here to help. Tell us more about yourself and what you are looking for. We'll get you the information you need right away.
Request Information