Library Search Strategy for RN to BSN Students
The High Library Team created amazing resources for our RN to BSN Students. Please use the following link to access the resources built just for you!
Link to the High Library Resources for Nursing Students https://libraryguides.etown.edu/nursing
Here are 3 easy rules for database searching: Rules for Advanced Searching in CINAHL Complete
Keep one concept per row. Different concepts should go on separate rows. Keep the concepts simple and specific.
If you can think of synonyms or related terms for a concept, add them in the same row, typing an OR between words.
If you get too many results, review which relevant terms are used in the "Subjects" area of the results. Then, use those terms as the keywords in your search and change the "Select a field" drop-down menu to "SU Subject", as shown in the below example search. That tells the database to only retrieve articles that use your keywords in the subject field of the article records.
Example Search:
1st search line: care coordination
2nd search line: leader* (in SU Subject)
NOTE: The asterisk (*) is a wild card search. It tells the database to search for any form of the word that starts with the letters that appear immediately before it. Leader* will pull results for articles that use the word leader, leaders, OR leadership.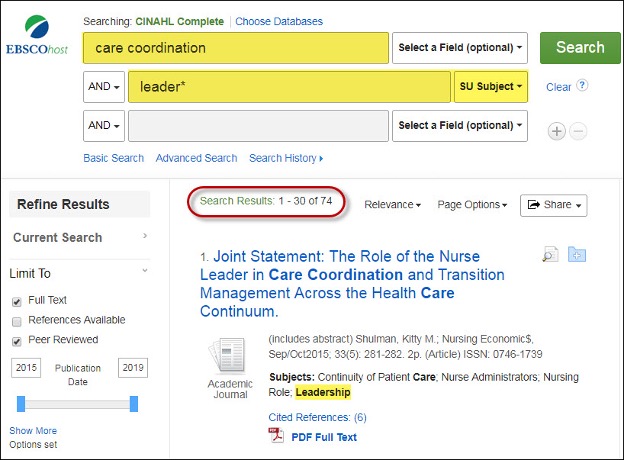 Tip for Students: Remember to check the Peer Reviewed checkbox when you need scholarly/peer reviewed articles.
 
Search Strategies in Other Databases than CINAHL Complete
CINAHL Complete is unusual as it often works best to focus searches by using the "Subject" limiter. However, in other databases, you may have better results by using other field limiters, instead.
Run your search without field limiters, first. (You can limit by date and peer review status, as required.)
If you get too many results, try filtering the search to "Abstract" in Ebsco databases, or "Anywhere except full text" in ProQuest for one or more rows. These options are included in the drop-down menus to the right of the search boxes.
Additional Advice from our Librarians: You may also leave your search broad and simply scroll through the first few pages of results to identify the most relevant titles.
Example Search: Type in Care Coordination and Patient Outcomes
Search in Three Easy Steps
Enter keywords and click Search
Limit results by publication date, content type, full text, peer review, and more.
Review results and click the title link or "Full Text Online" icon to read the full content.