Office Supply Info...
Our Elizabethtown College Purchasing Department has negotiated with Guernsey for the purchase of most needed office supplies.   
Guernsey offers an easy and reliable way for you to get the supplies and services you need, when you need them at negotiated prices.
This Program will provide you with an all-inclusive purchasing experience.
Effective today, please use www.buyguernsey.com to access the EZorder website.
Username and password are the same
Website and order navigation are relatively the same as EZorder
If you have trouble accessing the website or logging in, please contact wecanhelp@buyguernsey.com.
  Customer Support Contact:
Phone              717-948-5238
Email               wecanhelp@buyguernsey.com
Elizabethtown College Customer Representative: jsellers@buyguernsey.com.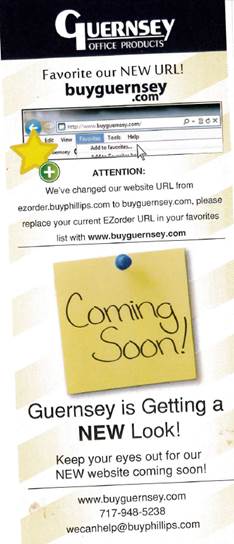 Ordering
Most commonly used office supply items can be found  on The Guernsey website.  Stock it ems are shipped overnight to the College provided the order is placed prior to 2:30 p.m. Monday through Friday.  Keep in mind there are some items that may require a longer lead time; these items are usually indicated as backorders.
Personalized Shopping Lists

Robust Search Capabilities

Video Tutorials

On-Line Order History and Tracking
It is the department's responsibility to check the contents of the box and report any discrepancy directly to Guernsey.
Guernsey Phillips Group Office Supplies Instruction Guide
If you require items that are not found on the website,
 

Guernsey Guarantee
No Minimum Order Size

Next Day, Desktop, Delivery,  Monday – Friday

Annual Lunch & Learn

Designated Support Team

2 hour Response Time

Free Toner Collection
Hardcopy catalogs are available upon request.  Email  wellst@etown.edu .
Guernsey Support Team
Email or call with questions regarding a product or website assistance
wecanhelp@buyguernsey.com
800-538-7500, extension 5238