Laundry Facilities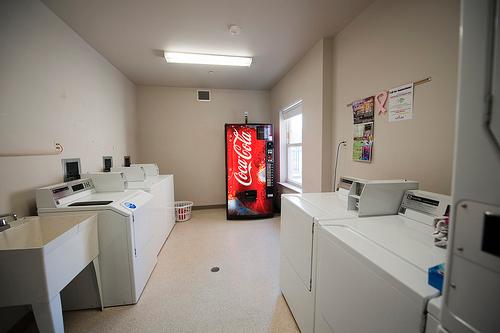 Washers and dryers are provided in all residential facilities. Laundry is free for Elizabethtown College residential students during the academic year.
New high-efficiency washers and dryers will be installed in the residence halls over Winter Break 2016-17!  Each building will be equipped with at least one ADA accessible washer and dryer.
With the new machines students will have access the laundry monitoring system "Wash Alert."  This will provide you with real time notifications on when machines are available, how much time is left on your cycle, and a notification when your cycle is finished.  This app will also allow you to submit immediate service requests when machines aren't working properly.
**Important:  The new washers only take HE laundry detergent.**  
Links to Wash Alert:
Brinser: http://quantum.speedqueen.com/wa/elizabethtownbrinser
Founders A Tower: http://quantum.speedqueen.com/wa/elizabethtownfoundersa
Founders B Tower: http://quantum.speedqueen.com/wa/elizabethtownfoundersb
Founders C Tower: http://quantum.speedqueen.com/wa/elizabethtownfoundersc
Founders D Tower: http://quantum.speedqueen.com/wa/elizabethtownfoundersd
Hackman North: http://quantum.speedqueen.com/wa/elizabethtownhackmannorth
Hackman South: http://quantum.speedqueen.com/wa/elizabethtownhackmansouth
Myer: http://quantum.speedqueen.com/wa/elizabethtownmyer
Ober: http://quantum.speedqueen.com/wa/elizabethtownober
Royer http://quantum.speedqueen.com/wa/elizabethtownroyer
Schlosser: http://quantum.speedqueen.com/wa/elizabethtownschlosser
Quads: http://quantum.speedqueen.com/wa/elizabethtownschrieber