Accounting 
Your Determination. Your Success. 
Bachelor's in Accounting
A background in accounting opens you up to a number of opportunities more than just number-crunching. As a financial problem-solver, you'll be able to help businesses and nonprofit organizations make important business decisions, or aid individuals with personal financial goals. A bachelors of science in accounting from Elizabethtown College's School of Continuing and Professional Studies will help to develop you into a critical thinker who can help shape the financial future of your organization. Your coursework will include accounting and business principles, business ethics and law, and even specialized classes such as forensic accounting. Our program also emphasizes strategy and social responsibility and also provides an international perspective.
If your end-goal is to become a CPA, you'll be glad to know we've got you covered there as well. Elizabethtown provides options to fulfill the educational requirements needed to sit for Pennsylvania's CPA exam.
Program Formats:

Classroom

Blended
Credits Required:
125
Cost Per Credit:
$555
Program Outcomes
Apply Generally Accepted Accounting Principles (GAAP) to accounting records and financial reports.
Utilize financial reports to draw meaningful conclusions regarding the financial operations of an organization.
Incorporate technology into accounting practices.
Demonstrate skills to be a self-directed employee in a team environment focused on achieving organizational goals.
Model the need for high ethical standards when conducting business activities.
Accounting Degree Requirements
Accredited by the Middle States Association for Colleges and Secondary Schools, the bachelor's degree from Elizabethtown College requires 125 credit hours of academic work. Degree candidates must take at least 30 of their last 60 credits from Elizabethtown College. Credits taken at Elizabethtown must include at least 15 credits in the major; nine of them must be 300-400 level accounting courses. Students can consider adding a minor from any SCPS degree program, including Corporate Communication, Criminal Justice, Health Care Administration or Information Systems.
Are you ready to accelerate your career? Get started now with a bachelor's degree in Accounting from Elizabethtown College.
Career Outlook
Degree Requirements for Job Postings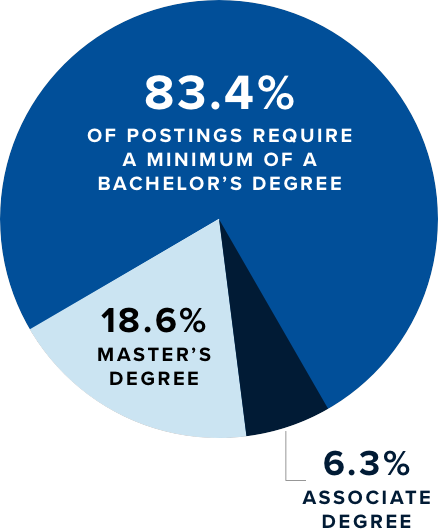 Career Opportunities for Graduates:
Accountant
Budget Analyst
Financial Analyst
Controller
Tax Manager
Credit Analyst
Auditor
Job Postings in the Region:
35,365
in the past 12 months
Source: Burning Glass Technologies ©
Where Our Graduates Work:
Graduates of Elizabethtown's Accounting program work for reputable companies and organizations such as:
Alcoa Corporation
BB&T Corporation
Church & Dwight Co., Inc.
Commonwealth of Pennsylvania
PHEAA Shortly after graduation I was hired as a Staff Accountant in the same field I had previously been in for the past 6 years. I have since been promoted to Senior Revenue Accountant. This would not have been possible if not for my education at Elizabethtown.
When I decided to go back to earn my bachelor's degree, E-town offered me the ability to work at my pace. The program was very accommodating and the instructors were flexible and understanding of my needs working full-time as a single mother.
Each facilitator excels your knowledge and skills. The professors teach relevant material that you can apply in your current job immediately.
I wanted to make a difference and make an impact in my career. I built my foundation through the Elizabethtown College program. I also wanted to give my kids an example of a role model to give them the motivation to pursue their goals. Meet Your
Lead Facilitator
Matthew Weaver
Matt earned his Bachelor of Science degrees in Accounting and Business Administration from Lebanon Valley College. He also earned a Master of Business Administration Degree and M.S. in Nonprofit Management from Eastern University in St. David's, PA.
Matt has over ten years' experience in public, private and nonprofit accounting and is the CFO for an automotive dealership. In his free time, Matt enjoys spending time with family and being outdoors.
We're here to help. Tell us more about yourself and what you are looking for. We'll get you the information you need right away.
Request Information