Business Office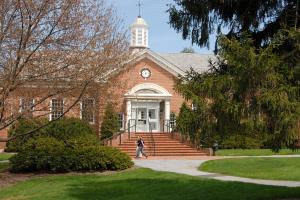 The Business Office is dedicated to supporting the educational mission of Elizabethtown College by providing effective and efficient financial services with integrity, respect, confidentiality, and professionalism. Our mission is to promote fiscal responsibility by providing our clients with the necessary services to fulfill their financial obligations to or from the College while safeguarding the assets of the College.
The Business Office at Elizabethtown College interacts with nearly everyone on campus. We oversee student and general campus accounts, from Jay Bucks to tuition and office supplies. We provide training to student club treasurers and work closely with the Financial Aid office to help students with their individual accounts.
From our website you can access important forms and policies and log in directly to your student or staff account to check a balance or pay a bill.
Our office, in Zug Memorial Hall, is open during the academic year from 8 a.m. until 4:30 p.m., Monday through Friday. During the summer, we close at 2 p.m. on Friday.