Dean of Faculty Announcements

March 9, 2016 - Student Memo - Signature Learning Experience (SLE)
March 9, 2016 - Faculty Memo - Advising the Signature Learning Experience (SLE)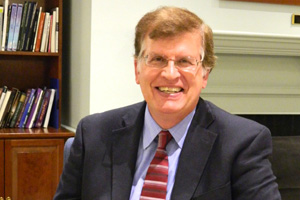 Dean of Faculty
E. Fletcher McClellan, Ph.D.
As Dean of Faculty, E. Fletcher McClellan oversees Elizabethtown College's academic departments and is instrumental in the recruitment, appointment and advancement of faculty members. He also is closely involved in curriculum development, outcomes assessment, and programs that promote scholarship and teaching effectiveness among Elizabethtown's faculty.
McClellan, of Palmyra, earned a doctorate in political science from the University of Tennessee-Knoxville, a master's degree in political science from East Tennessee State University, and a bachelor's degree in government from Franklin & Marshall College, Lancaster, Pa.
McClellan brings with him three decades of academic experience.  Joining the Elizabethtown faculty in 1982, he was promoted to associate professor of political science in 1989 and professor of political science in 1996. McClellan twice served as department chair since 2001, and served as interim provost during the 2006-2007 academic year. He was president of the faculty assembly from 2004 to 2006 and was associate dean of faculty from 1995 to 2001. In the late 1990s, McClellan served as co-chair of the Elizabethtown College Institutional Self-Study Committee for re-accreditation by the Middle States Association of Colleges and Schools, and he served as interim provost and dean of faculty.
In the spring of 2008, McClellan was a lecturer in American Studies with the Dalian University of Foreign Languages, School of English Studies, in Dalian, China, and in fall 1999, was a lecturer in political studies at Queen's University, International Study Centre at Herstmonceux Castle, East Sussex, England.
McClellan's major areas of academic interest include American government, presidential studies, U.S. policy toward Native Americans, and American politics and popular culture. He has presented dozens of papers at international, national, and regional professional conferences.  His most recent publication was a contributed book chapter on the history of the outcomes assessment movement in the 2010 American Political Science Association monograph, Assessment in Political Science.
McClellan has served as an external reviewer for several political science departments in the Northeast, and has conducted numerous workshops on outcomes assessment at national and regional political science meetings. He is on the executive council of the Political Science Education section of the American Political Science Association (APSA), and was section program chair for the 2010 annual APSA meeting.