Master of Science in Strategic Leadership (MSL) 
Your Goals. Your Timeline. 
Master of Science
in Strategic Leadership
Elizabethtown College's Master of Science in Strategic Leadership focuses on purposefully leveraging and enhancing the "people-side" of an organization to effectively generate and implement big picture strategies in meaningful ways. The MSL program will equip you with the skills and knowledge you need to become a successful leader of individuals and groups with the ability to provide effective strategic direction and ethical decision-making. Decide what type of leader you wish to be and prepare to inspire and implement meaningful change.
Program Formats:

Classroom

Blended
Credits Required:
36
Cost Per Credit:
$695
Concentrations:
Health Care Administration
Program Outcomes
Articulate a personal leadership philosophy.
Solve problems through diagnosis and solution generation.
Develop diverse teams to improve productivity.
Implement mentoring and coaching strategies to enhance self and others' professional skills.
Lead using a framework for ethical decision-making that enhances the ethical climate of the organization.
Make financially sound decisions.
Strategically apply leadership theories to enhance workplace and community.
Strategic Leadership
Degree Requirements
The Strategic Leadership masters degree from Elizabethtown College requires 36 credit hours of academic work. A concentration is available in Health Care Administration. Degree candidates must take at least 30 of their credits from Elizabethtown College.
Are you ready to elevate your career? Get started now with an M.S. in Strategic Leadership from Elizabethtown College.
Career Outlook
Years of Experience for Job Postings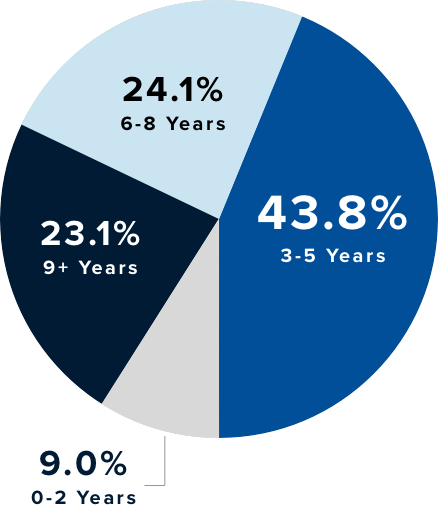 Career Opportunities for Graduates:
Vice President of Operations
Chief Financial Officer
Operations Manager
Accounting Manager
Marketing Manager
Job Postings in the Region:
35,365
in the past 12 months
Source: Burning Glass Technologies ©
Where Our Graduates Work:
The Hershey Company
Fulton Financial Corporation
Voith Hydro
Highmark Health
Blue Cross Elizabethtown College SCPS has a supportive, educated faculty who helped to make me a more self-aware leader and person. This degree has allowed me to be successful and to contribute to my community in a positive way.
When I decided to go back to earn my bachelor's degree, E-town offered me the ability to work at my pace. The program was very accommodating and the instructors were flexible and understanding of my needs working full-time as a single mother.
Each facilitator excels your knowledge and skills. The professors teach relevant material that you can apply in your current job immediately.
I wanted to make a difference and make an impact in my career. I built my foundation through the Elizabethtown College program. I also wanted to give my kids an example of a role model to give them the motivation to pursue their goals. Meet Your
Lead Facilitator
Kelly Garrett
The Lead Facilitator for the M.S. in Strategic Leadership and Graduate Certificate in Strategic Leadership, Dr. Kelly E. Garrett serves as the Director of the Emergency Management Professionals Program at the Emergency Management Institute (EMI) in Emmitsburg, MD. In his role at EMI, he is responsible for providing program and curriculum oversight, collaboration, and coordination between the Basic, Advanced, and Executive Academies, which matriculates more than 2,700 students annually. A retired U. S. Army Reserve officer, Colonel Garrett served on the Department of the Army Staff in the Pentagon, as a Faculty Instructor at the U. S. Army War College, and as an Adjunct Professor at the U.S. Army Command and Staff College. Kelly received Doctor of Education and Master of Science in Education degrees from the Chief Learning Officer Program at the University of Pennsylvania in Philadelphia, Pennsylvania, and a Master of Science in Leadership and Business Ethics from Duquesne University in Pittsburgh, Pennsylvania. He also possesses graduate certificates in Public Leadership from The Brookings Institution in Washington, DC and in Talent Leadership from The Wharton School.
We're here to help. Tell us more about yourself and what you are looking for. We'll get you the information you need right away.
Request Information