Social Work at Elizabethtown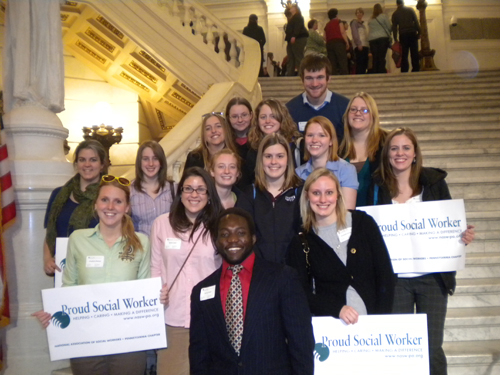 Social Workers help individuals, groups and communities find solutions to problems in areas such as education, employment, health care, drug and alcohol abuse, personal relationships and aging.
According the Bureau of Labor Statistics, the need for social workers is expected to grow twice as fast as other occupations, especially in gerontology, home healthcare, substance abuse and school social work.
At Elizabethtown College, the Department of Social Work closely aligns with the College's mission of "Educate for Service." Our students get field study experience starting in their first year.
Department Mission Statement and Goals
Building upon the Elizabethtown College motto, "Educate for Service," the Social Work Department uses relationship-centered learning to provide a strong generalist social work education based upon a liberal arts foundation integrated with extensive field experience, to achieve the established competencies of social work.
Goal One:
To prepare dedicated social workers who have integrated professional knowledge, values, and skills with an understanding of the intersection of cultural identities to promote social change and work for human rights worldwide.
Goal Two:
To develop ethical social workers who can engage with multi-level systems to address structural inequalities and life challenges through an integration of the liberal arts and professional knowledge.
Student Learning Outcomes 
Demonstrate ethical and professional behavior
Engage diversity and difference in practice
Advance human rights and social, economic, and environmental justice
Engage in practice-informed research and research-informed practice
Engage in policy practice
Engage with individuals, families, groups, organizations, and communities
Assess individuals, families, groups, organizations, and communities
Intervene with individuals, families, groups, organizations, and communities
Evaluate practice with individuals, families, groups, organizations, and communities
Assessment of Student Learning Outcomes
Learn more about our department: