The Bird Feeder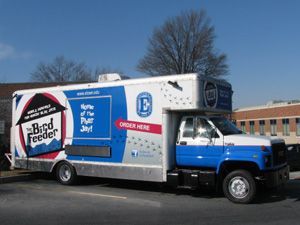 I
Late-night study session hunger pangs? Elizabethtown College offers students an after-hours dining option. The Bird Feeder is our late-night food truck -- a roaming mobile concession stand; its menu and location changes weekly -- see below for the locations for this week.  And be sure to look for the Bird Feeder at various sporting events across campus!!
Visit our Facebook page to keep up with the latest news, location changes, etc.
HOURS: 10 p.m. to 2 a.m.Thursday, Friday and Saturday
PAYMENT METHODS: Cash, Jay Bucks, and student/staff charge
Bird Feeder Locations
The Bird Feeder is closed for the summer - we'll see you in the fall!

Bird Feeder Menu
The Bird Feeder features several regular menu items and rotating weekly specials:
| REGULAR MENU ITEMS | PRICES |
| --- | --- |
|  The "Moon Burger" - Veggie burger with lettuce, tomato, onion, and cucumbers served on a steak roll | $5.00 |
|  The "Beefy Egg Jay ' - Cheese steak and an egg served with bacon crumbles on a bagel | $5.75 |
| "Cheese Steak Sliders" - delicious chopped steak and cheese on a fresh slider roll |  $5.75 (for 3) |
| The "Phat" Jay - sub roll packed with chicken tenders, cheese sticks, French fries, cheese sauce and marinara sauce. | $6.75 |
| The Country Smash Burger - 1/2 pound of lean ground beef with American Cheese, lettuce and tomato served on a Country roll | $5.75 |
| The Edgar Allen Po' Boy Sandwich -  grilled Black Forest ham with melted American cheese, Jalapeno ranch dressing, Romaine lettuce, tomato and onion all served on a pretzel roll |  $6.00 |
| Buffalo Chicken Balls | $5.75 |
| Grilled turkey, bacon and melted muenster cheese on a pretzel roll | $6.25 |
| Giant Pancake - two freshly made pancakes, plain or with our signature creations including S'mores, Bacon, Strawberry Sunday or M&M |  $5.75 |
| The "Dirty Pancake" - crumbled Oreos, gummy worms, and pudding topped with whipped cream and Hershey's Chocolate syrup | $5.75 |
| Chicken Tenders | $4.25 |
| Cheese Sticks | $4.25 |
| Truck Fries | $4.25 |
|  Fried Pickles | $4.75 |
| WEEKLY SPECIALS - | PRICES |
|  Week of - WEEKLY SPECIALS WILL BEGIN SOON - THANKS FOR YOUR PATIENCE! | varies |