Staff and Contact Info 
Mailing Address:
Elizabethtown College
Financial Aid Office
One Alpha Drive
Elizabethtown PA 17022
Main Contact:
(phone) 717-361-1404
(fax) 717-361-1514
The Financial Aid Office at Elizabethtown is always here to serve student and families. Our office brings together many years of experience from all areas of financial aid. We strongly encourage students and families to contact our office whenever they feel they need our assistance - that is why we are here! Some of our services include: providing current information and resources, budgeting assistance, debt management, and general assistance in financing a college education. Appointments may be scheduled between the hours of 9:00 am to 4:00 pm. Our office is located in Zug Hall, Room 208. 
Meet the Staff
Elizabeth McCloud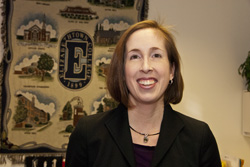 Director of Financial Aid
mcclouek@etown.edu
B.A., Indiana University of Pennsylvania
As a college student I worked part-time in my school's Financial Aid Office to earn spending money. Little did I know at that time that financial aid would eventually become a calling and a career, but two years after graduation I discovered Elizabethtown College and came to work in our Financial Aid Office. Fifteen years later I am so glad to have discovered this special place – a dynamic and caring community that I am proud to be a part of as director of financial aid.
I live in Elizabethtown and I'm involved in the community, serving on the boards of Elizabethtown Area Communities That Care and the Elizabethtown Child Care Center. My husband and I have two children, with whom we enjoy sports, music, games and reading.
Christopher Mowl
Associate Director of Financial Aid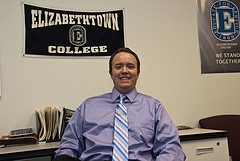 mowlc@etown.edu
B.A. West Virginia University
I have been with the Financial Aid Office at Elizabethtown since October of 2008. I was previously employed as a student loan representative at American Education Services. I graduated from West Virginia University in 2002 with a Bachelor's Degree. I enjoy reading, love history, and am a dedicated Civil War History buff. I also enjoy playing ice hockey and golf. I currently reside in Middletown with my wife and daughter.
Andrea M. DeLuca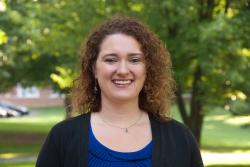 Assistant Director of Financial Aid
delucaa@etown.edu
B.A. Millersville University of Pennsylvania

As a member of the Financial Aid Office, I look forward to serving the students and families at Elizabethtown College. In 2005, I earned my Bachelor's Degree in three areas: economics, sociology, and government and political affairs. From there, I invested time in several Lancaster City community improvement initiatives, eventually finding my niche in education. I believe education is the greatest investment for the betterment of the community. My experience includes work in all levels of education including k-12, proprietary schools and the traditional four-year higher education institution.
My personal interests include event planning, community development, whole foods nutrition and history. I currently reside in Maytown, PA with my husband, our daughter, identical twin boys and our Boxer.
Kathleen Thomas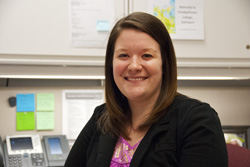 Assistant Director of Financial Aid
thomaske@etown.edu
B.A. The College of Wooster
I joined Elizabethtown College in February of 2013. I am excited to get the opportunity to serve the students and families at Elizabethtown. I graduated from The College of Wooster in 2010 with a Bachelor of Arts Degree. While at The College of Wooster I worked as a work study student in the financial aid office for four years. After college I moved back to my hometown of Greencastle, Pa and worked at a local community bank.
I currently live in Elizabethtown with my husband and Jack Russell. My interests include dance, art, and outdoor activities like hiking, jogging, and playing with my dog.
Sally Lindsey
Administrative Assistant
lindsesr@etown.edu
A.S. Goldey-Beacom College
I've been employed in the Financial Aid Office at Elizabethtown College since 1990. I received an associate's degree from Goldey-Beacom College in Wilmington, DE.
Julie Houseal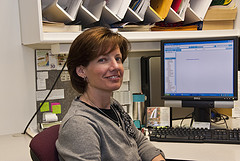 Administrative Assistant
housealju@etown.edu
A.D. Central Pennsylvania Business School
I joined the Elizabethtown College Financial Aid Office in 2006. I graduated from Central Penn Business School with an Associate Degree in Business Administration. I previously worked in the offices of Intelligencer Printing Company and Trinity Lutheran Church. I currently reside in Mount Joy with my husband and three children.