Downloadable Resources
The Office of Marketing and Communications offers a number of downloadable resources for community use. Feel free to use anything listed. If you have a specific need please complete our project request form.
PowerPoint Templates
Word Templates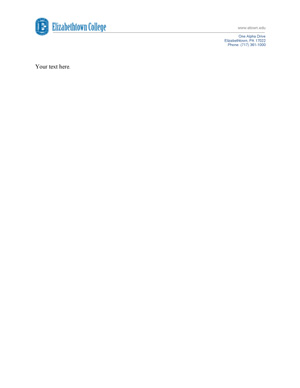 Standard Etown Letterhead Word template
Email Signature
As Elizabethtown College continues its strategic planning, the college is focusing on promoting a standard identity and a sense of unity for its faculty and staff.  The following standards should be applied to all @etown.edu email signatures for faculty and staff.
First name and last name

Middle initial optional
Professional designation optional
Graduating class year optional

Position at the college
Department or Office
Optional: Additional advisory title(s)
Elizabethtown College
One Alpha Drive, Elizabethtown, PA 17022
Office phone number | (optional cell number) | (optional fax number)
Optional links to social media sites, blogs, or department website* (*All social media sites must be supported by the college and follow the social media guide.)
Optional Elizabethtown logo (use this link: )
Guidelines for font:
Font: Helvetica
Font size: 12
Font Color: dark grey (preferred), or navy blue
Go horizontal using the pipeline key |'s

Located with the backslash key "\"
Optional "Educate for Service" can be placed as a tagline under contact information.
Do Not:
Insert backgrounds, pictures, animations, or distracting visuals etc.
Refrain from using quotes unless related to the college's mission or motto
Instructions:
Outlook Web App
In the upper right hand corner click on the options button
Click on the "See All Options" in the drop down menu
On the left hand side bar, click on "settings"
Under the "Mail" tab you will find a text box for your signature
Ensure you check the box "Automatically include my signature on messages I send"
Microsoft Outlook
On the top left select the "Tools" drop down menu
At the bottom of the drop down box select "options"
Select the "Mail Format" tab at the top of the pop up box
Click on the "signatures" button
Under the "E-mail signature tab" select a new signature and name your signature or select your preexisting signature and to edit it
Type your signature into the text box and click the "OK" button
To insert image click on the image icon and insert one of these urls: http://www.etown.edu/offices/marketing-and-communications/images/logo-email.jpg (College Logo) or http://www.etown.edu/offices/marketing-and-communications/guides/graphic-style-guide/images/BeInspired.logo-emailSignature.jpg (BE INSPIRED.)
Detailed instructions:
Mac Users: http://support.microsoft.com/kb/2455171 
PC Users:  http://office.microsoft.com/en-us/outlook-help/create-and-add-an-email-message-signature-HA010352514.aspx
Example Signature:
Wendy Sheaffer
Director of Creative Services
Office of Marketing and Communications
Elizabethtown College
One Alpha Drive, 
Elizabethtown, PA 17022
(P) 717-361-1143  |  (C) 717-305-8761
Wallpapers