On Site: Attorney General's Office Hosts Number of E-town Interns
When she looks to her left, Madeline Rassmussen '14 has a view of the state capitol building and the Susquehanna River. When she looks ahead, she sees law school in her future.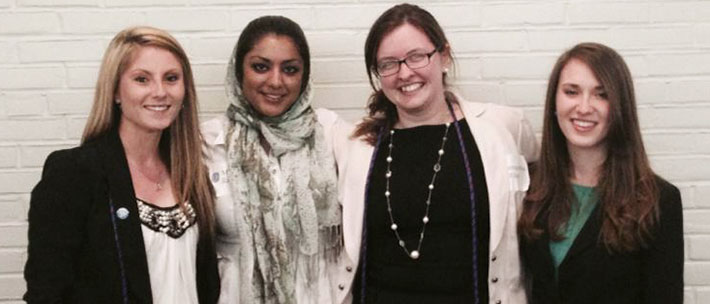 The senior English major is interning with the Tobacco Enforcement Section (TES) of the State of Pennsylvania's Office of the Attorney General. Among her duties, Rasmussen, pictured far right, manages documents, analyzes data, helps count and track evidence and prepares presentations for trial. She said that the relationships she's formed in the AG's office are "irreplaceable." Among them: Sharon K. Rogers, deputy attorney general in the TES.
"We've been thrilled with Elizabethtown  College students. They ask very good questions, and their work has been phenomenal."  
-- SHARON R. ROGERS
Rogers made a "cold call" to Dr. Kyle C. Kopko, director of the College's pre-law advising program and legal studies major. That connection led to seven (and counting) Elizabethtown interns in her office. She and her close-knit team are so thrilled with the initiative and work ethic displayed by E-town interns that it's almost a given you'll find one at the downtown, Harrisburg, offices each semester, summers included. 
With more than 800 employees and access to hundreds of lawyers from all backgrounds, Rogers said the AG's office is fertile training ground for a future attorney. Rassmussen was in the office when she received her first law school acceptance; Rogers and the rest of the TES team were jumping around, hugging and congratulating her, proud to be a part of her success as Rasmussen begins at Hofstra University School of Law in the fall of 2014.