Information for Accepted Students
2019 Accepted Student Days are scheduled for Saturday, February 16 and Saturday, April 6. Please check back in January to register for one of these special events or choose one of our other visit opportunities.
Congratulations on your acceptance to Elizabethtown College! This page offers helpful information and insight to help you figure out how to accept a place in the Class of 2023 at Elizabethtown College. We've provided links to resources we feel will be most helpful for accepted students--like you!--and their parents and families. As you navigate the acceptance process, we invite you to share your acceptance using a Tweet or Instagram and a way to Save Your Spot by making your Enrollment Deposit.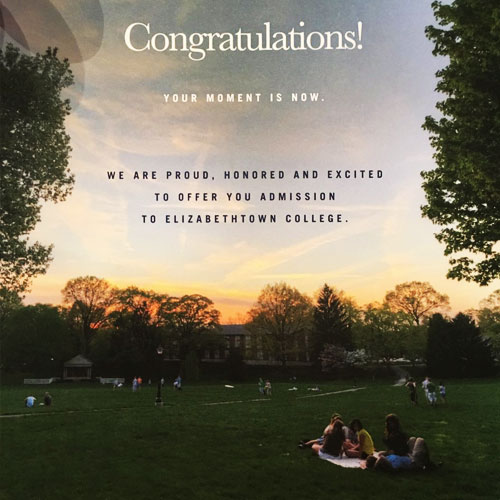 Enrollment Deposit
Congratulations on your acceptance to Elizabethtown College. If you haven't already sent in your enrollment deposit, you can reserve your spot in the incoming class and pay in one of the following ways:
Mailing a check or money order (payable to Elizabethtown College) to:

Office of Admissions
Elizabethtown College
One Alpha Drive
Elizabethtown, PA 17022-2298
NOTE: Please remember that if you mail your payment it must be postmarked by May 1. Mail postmarked after May 1 could be returned if the Class of 2023 is full.
Next Steps
If you plan to attend Elizabethtown, you must follow several steps. First, you must declare your intent by making your deposit. If you are still deciding, we encourage you to apply for financial aid so that you can accurately compare award packages. You can continue to learn more about us by attending one of our upcoming events or exploring our website.
Important Dates
As your senior year of high school winds down, there's a lot to begin to look forward to, and some of those things involve getting ready for college. If you haven't yet toured our campus, we encourage you schedule a visit. Also, take note of these important dates; we've listed some upcoming deadlines and events.
Get to Know Elizabethtown
As an accepted student, you have already been introduced to the E-town experience. As you continue through the college decision process, we invite you to discover more about our campus, programs, faculty and students. We've selected a few areas of our website we think you'll enjoy exploring and you can use the search feature to find more information about the areas that interest you.
Additional Resources
As you make preparations for College, you and your parents may have questions about financial aid, academic programs and other topics specific to your interests and situation. We listed a few of the most common resources to the right. Remember that you can always reach out to your admissions counselor or the Office of Admissions with any questions as well at 717-361-1400 or admissions@etown.edu.
Share Your Acceptance
We asked accepted students to 'show us your acceptance' in a Tweet or Instagram photo and tag (#etowncollege or #etown2023) or mention (@etowncollege) us.