Become a Blue Jay
Hey there, future Blue Jay!

Congratulations to you on your acceptance to Etown. What's your next step? Submit your enrollment deposit to hold your spot in the Class of 2027!

Make your deposit today!
choose how to deposit
Online
Log in to your Status Portal to submit your deposit!
Log in now
or
By Mail
Mail your check or money order (payable to Elizabethtown College) to:
Office of Admissions
Elizabethtown College
1 Alpha Drive
Elizabethtown PA, 17022
and after you deposit... celebrate!
make new friends
Introduce yourself in the private Facebook group called Elizabethtown College Class of 2027 Accepted Students.
Tag #etownaccepted with your new swag.
Follow #bluejaysalways to connect with current and past Jays.

Show off your excitement on TikTok and share the news about your acceptance to Etown with the hashtag #etownaccepted.
Join Us for an Accepted Student Day!
Accepted students and their families are invited to join us for one of our upcoming Accepted Student Days! These events are an opportunity to celebrate students like you who have been admitted to Etown. Whether you've already decided to join the Etown family, or need one last look, our Accepted Student Days are all about you and include:
Academic Department Presentations
Campus Tours
Personal Financial Aid Meetings
Activities Fair featuring Student Clubs, Organizations, and Athletics
Various Student Experience Sessions
This experience is meant to help you find out everything you want to know about our campus community and we sincerely hope you'll decide to join us!
Upcoming: April 1
Register for an Accepted Student Day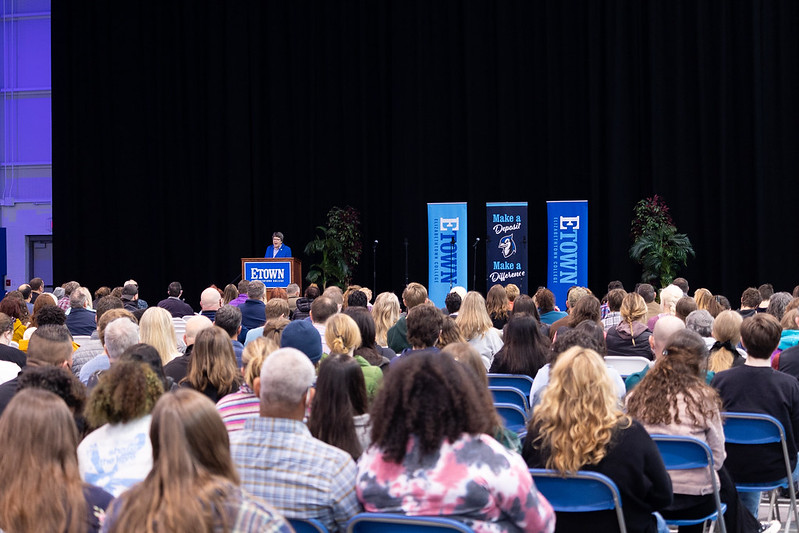 Make a Deposit. Make a Difference.
Make your enrollment deposit by March 18 and Etown will match it and donate the proceeds to Keystone Pet Enhanced Therapy Services (KPETS), a volunteer organization that promotes well-being by sharing the power of human-animal interactions in south-central Pennsylvania and Northern Maryland.
Help us reach our goal to raise $15,000 in donations to support this impactful group!
Deposit Now
READY TO BECOME A BLUE JAY?