Tuition and Costs
When compared with cost and value at other types of institutions, a private college or university, is worth the investment.
We make a commitment to our students and their families to provide an excellent education. We invest in our faculty, facilities, curriculum and offerings to add additional value to your educational experience and to your future degree. We work hard to offer a high-quality four-year degree at a cost that makes it accessible to everyone.
Scholarship Opportunities
Elizabethtown College makes private education affordable with over $37 million in institutional scholarships and grants awarded in 2015-16 to nearly 95% of Elizabethtown students. We awarded $11 million in grants and scholarships to first-year students alone. Additionally, federal and state funds enhance the packages of nearly every student at the college.
For high academic achievers, merit-based scholarships are available. Awards run up to more than half tuition. No separate application is necessary for merit-based scholarship eligibility. All applications completed by April 1 will be considered. Additional scholarships are available by application including Music Performance and Endowed scholarships. 
A Private College Experience at a State School Price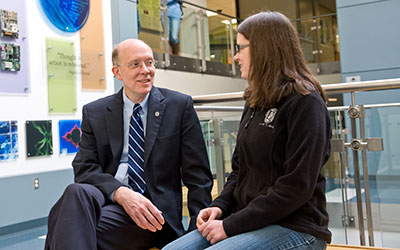 Our Presidential Scholarship program rewards academic achievement. For all Presidential Scholarship recipients, we will make the net cost at Elizabethtown lower than or comparable to the cost of tuition, fees, and room and board charged to in-state residents at the largest public Pennsylvania universities.
Tuition and Comprehensive Fees
Resident
Annual Rate
Tuition
$45,350
Room
$5,440
Meal Plan
$5,550
Comprehensive Fee
$56,340
for the 2017-2018 academic year
Commuter
Annual Rate
Tuition
$45,350
Comprehensive Fee
$45,350
for the 2017-2018 academic year
Net Price Calculator
Please note: your award estimate is meant to be a guide in helping you plan for an Elizabethtown College education. The accuracy of your estimate is dependent upon the accuracy of the information you provide when using our Net Price Calculator.
Financial Aid
Our comprehensive financial aid programs ensure that an Elizabethtown education is available to students of all economic backgrounds. Through a combination of grants, loans and campus employment, our students are able to find the means to attend Elizabethtown College. Each student's amount of assistance is based upon his or her demonstrated financial need.
Our Financial Aid Office is here to assist you and your family from application through graduation. Stop by when you visit campus and meet with our Financial Aid staff to learn more about what we can do to help you afford your degree. 
Financial Aid Timeline
*Please note that this timeline only applies to traditional day students. Additional information for students enrolled in the School of Continuing and Professional Studies can be found here.
June: Beginning in June our office will email award letters to returning students for the 2018-2019 academic year. Students may then log in to the Student Aid Portal to view financial aid awards, accept the package online, complete requirements, or review their history.
June: Welcome, Class of 2022! Attend Summer Orientation to learn more about the Elizabethtown College community.
June - August: Complete all outstanding financial aid requirements as soon as possible including accepting the package online (all students), verification requirements, completing entrance counseling and signing the master promissory note (first-time loan borrowers only).
August 1: Fall semester bill due date. Contact the Business Office or Financial Aid with questions or concerns.  

August 27: Classes begin for the fall semester.