At E-town, you are more than just a GPA or an SAT score. As a small liberal arts college in Pennsylvania,  we value a well rounded and interdisciplinary curriculum. We embrace diverse backgrounds, abilities, experiences and interests. We are a community of athletes, artists, musicians, volunteers, scholars and advocates. Our Blue Jay family members are committed to helping each other succeed and improving the world around them.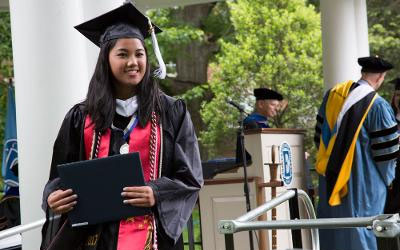 Four-Year Graduation Guarantee
Our four-year graduation rate already exceeds the national average which helps to keep your costs down and allows you to enter the job market sooner. If you meet the requirements and don't graduate in four years, we will pay for the remaining credits—up to 16 in one year—needed to complete your degree.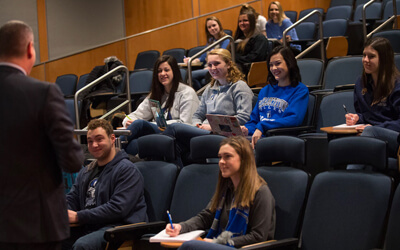 Tuition and Costs
Choosing where you will continue your education is one of the most important decisions you will make – and tuition and costs are often large deciding factors. We are committed to provide an excellent education at a cost that is accessible and affordable to everyone.
Deadlines
 
Admissions Application Deadline
Financial Aid Application Deadline
Admissions Notification
Financial Aid Notification
Student Response Deadline
Fall First-Year Application

November 1 (Priority*)

April 1 (Rolling)

April 1
Rolling
Rolling as of October
May 1
Fall Transfer Application
August 1
March 15
Rolling
Two weeks after acceptance
May 1
Spring First-Year Application
December 1
December 1
Rolling as of November 1
Two weeks after acceptance
December 15
Spring Transfer Application
December 1
December 1
Rolling as of November 1
Two weeks after acceptance
December 15
* Students who file by November 1 will receive priority consideration for admission and scholarships. You are guaranteed an admission decision by November 30.
Special Programs Deadlines and Requirements
Affordability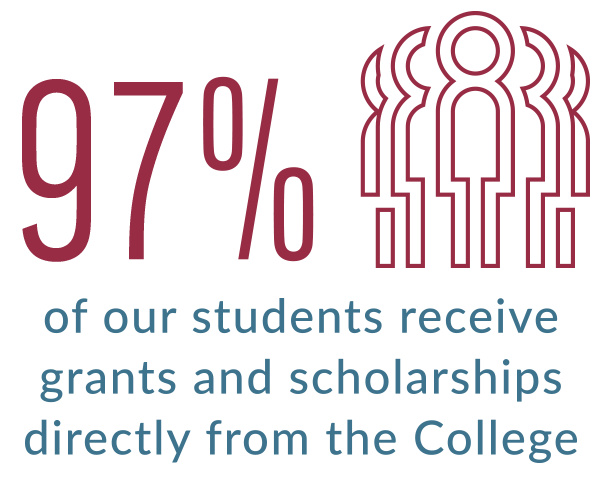 A quality education should be affordable. We're so committed to making sure an E-town education is affordable that each students (current and prospective) is assigned a financial aid counselor to help guide them through the financial aid process from the very beginning .  Our counselors are here to answer individualized questions and ensure their students' financial needs are addressed .
Support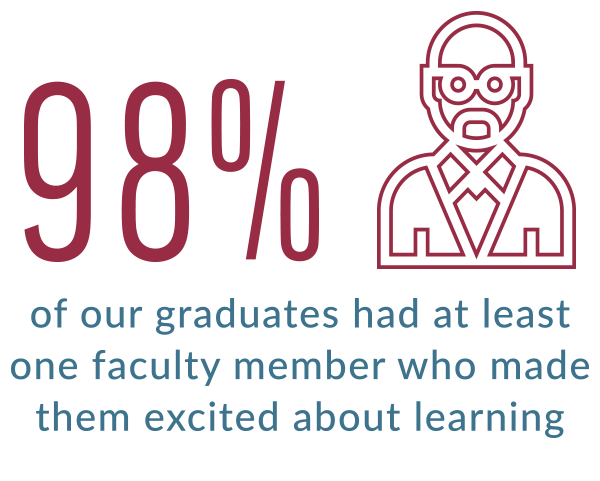 We know that adjusting to college life can be a challenging transition. That's why we select passionate and caring faculty and staff members who are here to support and guide our students, both academically and personally. This support system enables you to achieve the goals that you set out to conquer when you decided to enroll at E-town College.
Signature Learning Experiences - GUARANTEED
Signature Learning Experiences are real-world educational opportunities that challenge you to think beyond the books, go behind the scenes and travel across borders. We call them "signature" experiences because, from student to student, they are as unique as you, and they are what make the Elizabethtown experience different from other colleges.
Need to contact us?
You can reach us at admissions@etown.edu or
717-361-1400
Mailing Address: 1 Alpha Drive, Elizabethtown PA, 17022
Visit us on campus!
GPS Address: 348 College Avenue, Elizabethtown PA, 17022