Financial Aid
Make no mistake—excellence comes at a price—but we don't want finances to get in the way . For that reason, we work with all of our students, to make higher education affordable. We do our part by providing annual financial aid exceeding $28 million to 93 percent of our students, on top of the nearly half of our students who will also receive merit-based scholarships.
Elizabethtown College's Financial Aid Office assists prospective students in finding the financial means to allow them to fully participate in the educational experience at the College.
Services include:
Our Institutional Commitment
Aid received by 2012–2013 first-year students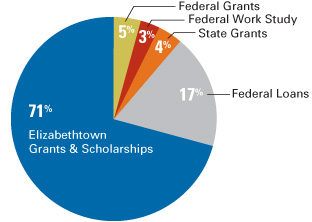 From where does all the financial aid come? Elizabethtown College students may be eligible for a variety of aid resources. Approximately three-quarters of all aid received by our first-year students comes from Elizabethtown College.
Elizabethtown College awarded $9.4 million in grants and scholarships to first-year students alone. In addition, these students received $3.9 million from federal, state and private sources for a total of $13.3 million. The specific amount of aid each student receives depends upon that student's financial need and academic profile.
Types of Aid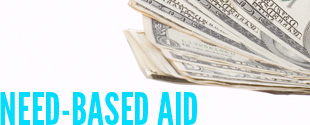 Need based aid
Students interested in need-based financial aid (grants, loans and employment) must complete the Free Application for Federal Student Aid (FAFSA) and the Elizabethtown College Need-Based Financial Aid Application. Applicants should apply no later than March 15.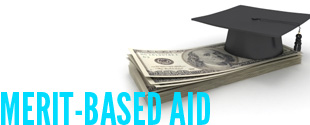 Merit based aid
All applicants are considered for renewable merit-based scholarships during the admissions application review. Some of these include about 100 endowed scholarships and gifts from Elizabethtown College Alumni and friends.