Monday, October 26
Schedules are subject to change very slightly in the coming weeks
8:30 - 9:00 am  
Hoover 
Registration & Continental Breakfast
9:00 am 
Hoover 
Welcome to the College & Opening Remarks
9:05 - 10:00 am   Hoover 
Business Disciplines and Careers in Each Area
10:05 - 10:30 am 
Break-out Sessions: Accounting, Business Administration, Economics & International Business (locations TBD by faculty)
10:30 am
Hoover 
Break
10:40 - 11:30 am Hoover
"Outstanding Features in our Business Programs" - Dr. Sylvester Williams
11:30 am - 12:30 pm
Discussion with Recent Alumni
12:30 - 1:30 pm Marketplace,
Brossman Commons
Lunch with Alumni & Current Students
1:30 - 1:50 pm  
Hoover 
Admissions & Financial Aid Presentation
1:50 pm
Hoover 
Business Department Wrap-up
2:00 pm
Optional events- Class visits, campus tours, admissions interviews, meetings with a coach or faculty member (as available)
Business Expo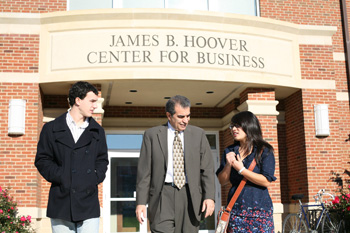 Register for Business Expo
Check out the Business Department
You are invited to Elizabethtown College's Business Expo to learn more about the numerous and diverse careers in the business disciplines, and how we excel in preparing you for a most enjoyable, rewarding, and challenging career.
Elizabethtown's outstanding business faculty, staff and students have put together a special program designed to answer any questions you may have, including:
What is it like to live and study at Elizabethtown?
What makes Elizabethtown's business programs different from others?
What courses will I be required to take to graduate?
Will my professors be friendly and helpful?
What is offered in terms of financial aid and merit-based scholarships?
What type of career or educational opportunities can I look forward to after graduation?
For more information about the day contact Adam Moore at 717-361-1161 or mooread@etown.edu.
This event was scheduled on a week day so you can see the classes and activities during your visit. Your parents are also invited to attend for the day. The campus tour, and other campus appointments must be scheduled in advance when registering for the event. You will receive a confirmation letter, directions to campus, campus map and lodging information for your parents prior to the Expo.
Register for Business Expo
Check out the Business Department
Business Day Registration