English Day
Friday, October 10
8:00 am                       Bird Cage, Brossman Commons
Registration & Continental Breakfast
8:30 - 8:50 am             Bird Cage, Brossman Commons
Welcome to the College- Paul Cramer, Vice President for Enrollment
9:00 - 9:50 am     Nicarry
Department Welcome & Introduction of Faculty- Dr. David Downing
10:00 - 11:00 am Nicarry
Sample of English Dept. Classes Choose two of four mini-classes: English Education, Professional Writing, English Literature, and/or Creative Writing
11:00 - 11:50 am Nicarry
Testimonials and Q&A- Current Elizabethtown students and alumni
12:00 - 12:20 pm         Bird Cage, Brossman Commons
Admissions & Financial Aid Process presentation (for parents)
12:30 - 1:30 pm      Marketplace, Brossman Commons
Lunch with available faculty, current students & alumni
Register for English Day
Check out the English Department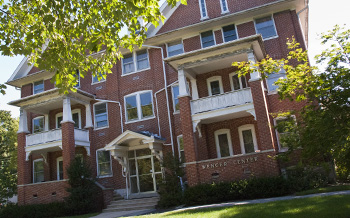 Elizabethtown College's department of English offers a variety of majors and minors to expand and educate you in a desired field of interest. There are majors offered in literature, professional writing, and secondary education. Minors are available in creative writing, literature, and professional writing.
During English Day, you'll get the opportunity to meet current students and faculty and listen to them discuss their experiences, both in and out of the department. You'll also get the chance to tour our Bowers Writers House, one of Elizabethtown's newest additions. It is currently utilized as a venue for writing enthusiasts to share their work and listen to presentations.
At English Day, you'll get to live a day in the life of a student at Elizabethtown College. We're working hard to make sure it will be an experience you won't soon forget!
For more information, contact Adam Moore at 717-361-1161 or mooread@etown.edu.