The E-team: Social Media Street Team

The Elizabethtown College Social Media Street Team, the E-team, is a group of social media-savvy students--armed with smartphones--that promotes campus events and initiatives. Look for the E-team on Twitter, Facebook, Instagram, Foursquare and, of course, on campus!
The E-team was established in the spring of 2012; the first team members were selected for the remainder of the 2011-2012 academic year and will continue their service in the 2012-2013 academic year.
The E-team is looking for new members! Apply today!
---
Meet the E-team
Alexa in 140 characters: Live life to the fullest, laugh whenever possible, love as much as you can and have peace within yourself. 
Alexa is a mass communications major. But her natural residence is good old Reading, Pa. Alexa is excited to be a part of the Elizabethtown College E-team and cannot wait to see what becomes of this new job! Alexa also is the station manager of ECTV-40, E-town's TV station, and she makes all of the Jay Flix the Office of Student Activities plays before every movie shown on campus. She has interned at ABC in Harrisburg and for The Rachael Ray Show. Her favorite hobby is traveling; she's been to almost every state and hopes to make to it every continent in her lifetime. When she is not traveling, you can find her staring at cool and interesting things, going for long beach walks, discovering remarkable items and learning new facts. She also has a great love for The Walt Disney Co. and hopes to someday grow up to become a princess. If that fails, she will have to make do with producing and editing videos or movies to become the next James Cameron. Alexa's lifetime goal is to help make a difference in the world--no matter how big or small.
Andrew in 140 characters: Member of the Elizabethtown College E-team- a Social Media Street Team! I'm a Mass Comm major & a social networking addict! Updating you on all things E-town!
Hello, all! My name's Andrew Calnon! I am a mass communications major, and I am from the small town of Elizabethville, Pa. I consider myself to be a perfectionist, with an enthusiastic and outgoing personality. I love being active, meeting new people, and helping in any way that I can. I enjoy thinking outside the box and being wildly creative, especially when it comes to producing videos. On campus, I volunteer with ECTV-40 and I am involved in Emotion (Dance Club) and the Sock & Buskin Theatre Club. And now I have a wonderful opportunity to work with the E-team where I will get the chance to share and inform people of all the amazing events Elizabethtown College has to offer through social networking sites! When it comes to social media: posting, tweeting, taking pictures, and checking in is what I do. I am constantly updating my timeline and browsing my Instagram, you could say I'm addicted! My goal for the future is to either become an executive news producer or a media relations coordinator for a company.
Ginette in 140 characters: Everything I love in E-town hashtags: # StudentSenate # Diversity # Momentum # WWEC # You
Ginette Slaughter is a communications major with a concentration in mass communications. Originally from Ocean City, N.J., she is trying to make her mark here at Elizabethtown College. Being a Class of 2014 representative, Ginette serves as the vice-chair of the Publicity and Marketing committee in Student Senate. She is involved in diversity on campus; she is vice-president for multicultural student groups Noir and Latinos Unidos. She also is in her second year of being a Kinesis Peer Academic Advisor to students in the Momentum program. Ginette hosts a radio show on WWEC 88.3, the college radio station, and will be joining the WWEC board in Fall 2013. Lastly, her hobbies include photography, reading the news, and last but not least, being glued to her iPhone and social media.
Taylor in 140 characters: Wake up, tweet, class, food, code, food, tweet, games, friends, sleep. Just a normal day in my life. #lifeisgood!!
Hello, I'm Taylor Ryan! I'm a junior with a double major in Computer Science and Mathematics. Like a typical geek, I enjoy playing video games, programming and watching some Big Bang Theory. I'm also attached at the hip to my iPhone and don't go anywhere without it. Anywhere. I have even made a game for iPhones and iPod Touches, called Speedy Wheels. In my spare time, I also like to play volleyball, and I'm a member of the Men's Club Volleyball team. I wanted to join the E-team because I enjoy tweeting and using other social media. Plus, I have a smartphone (like almost everyone else) and love taking pictures of campus and sharing them with others. I'm excited to share the many events and experiences that E-town has to offer and increase student interest in these events.
Zakiya "Zee" Fulton-Anderson '13: @etown_zee
Zee in 140 characters: The E-Team: Elizabethtown College's Social Media Street Team. My name's Zee and I tweet a lot! Mass communications major by day, advanced web surfer by night.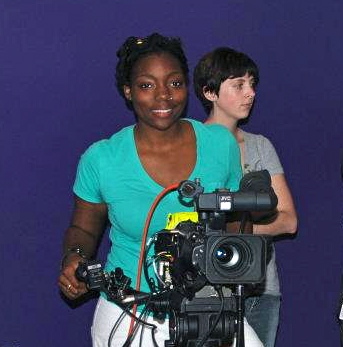 Zakiya Fulton-Anderson, better known as Zee, is a mass communications major. She is a native of Philadelphia, Pa., but she has made E-town her second home. Zee enjoys working with peers and assisting colleagues anytime a helping hand is needed. Aside from working with the E-town E-team, Zee is the costation manager at WWEC 88.3 FM. Not only does she help run things at WWEC, but, also, she is a radio disc jockey and personality. Zee also is the president of Express--a small hip-hop dance group on campus--volunteers at ECTV-40 and is a member of Noir. Her hobbies include listening to and exploring new music, producing video projects, hanging out with and making new friends and using social media! Zee's goal in life is to become a documentary film director, and she hopes to move on to making feature films.
Join the E-team!

The E-team's mission is to expand the College's reach and increase engagement with its social media audience by enlisting the help of active and social media-savvy students by way of a 'street team.' The Office of Marketing and Communications will provide a service to a number of students by creating an real-world learning opportunity: Social media know-how often is a requirement for today's job market.
We're looking to replace graduating members and add a few new faces to the team for the 2013-2014 academic year. If you love social media and want to learn more about the professional aspects of interactive marketing, consider joining. The details are below!

Benefits of Joining the E-team?
Acquire real-world learning in a marketing-and-communications environment.
Learn a new skill set while being mentored by a College staff member.
Become a brand ambassador for the College--show your school spirit!
Use tools you already are using but in a new, exciting way.
Gain experience for future employment and leadership positions: a resume builder.
Integrated marketing manager will write a letter of recommendation and/or serve as a reference at the conclusion of the academic year if performance was satisfactory.
Earn possible swag items to help you show off your E-team pride.
Requirements:
Volunteer students can be of any major or class year; some majors may allow the E-team to count for credit through a practicum experience.
Students must possess a smartphone with a camera, data plan, a Twitter application—and already be familiar with using Twitter.
Duties include:
Attend an E-team orientation and training, and, as needed, subsequent E-team meetings; help brainstorm ideas for social media efforts for the E-team and College as a whole
Regularly, if not daily, tweet from E-team Twitter account-- this can include check-ins, photos, updates and engaging with the audience
Sign up for specific, targeted campus events and provide pre-promotion, live coverage during and follow-up after
Periodically monitor hashtags and saved searches to answer questions about the College – providing customer service to current and prospective students and community members in general
Optionally, E-teamers can blog for The Social Life blog.
Terms of Involvement:
Members of the E-team would be appointed for a year-long volunteer position; however, if a superb candidate is studying abroad for a semester, we will consider a semester-long member.
Students must agree to allow their Twitter accounts to be public (new accounts can be created for the E-team) and their usernames be shared/linked from any publicity we do for E-town E-team.
All E-team members can reapply each fall; there is no limit to the amount of terms one can serve, but there also is no guarantee that a student will be selected the following year.
The Office of Marketing and Communications spearheads this initiative with integrated marketing manager as primary mentor of this group.
Student members' privacy will be respected, as in we won't police any social media accounts for everyday updates—students will be encouraged to be the real them; the only caveat is that when tweeting about the College events we're assigning them, we'd ask content to be positive and professional in nature—proper etiquette, if you will.
Students can be removed from the E-team at any time at the discretion of integrated marketing manager; likewise, students may resign from team if the feel they can no longer commit.
Apply to Join the 2013-2014 Team
Application deadline extended to June 14, 2013; Decisions announced in late June.