Accepted Student Day
Live Your Best Life
Welcome, Future Blue Jay!
Congratulations on your acceptance to Elizabethtown College! At Etown, we believe there is no other college that will engage you in finding and pursuing your life's calling, your life's work, and your most fulfilling future like we do. Our students become the influential advocates and changemakers, exceptional communicators and cause organizers the world needs more of.
Throughout today's virtual Accepted Student Day, you will discover how our student-centered culture will help you live your best life. We have a great schedule of virtual sessions planned for you today. If at any point you get off-track, just click the Blue Jay footprint at the bottom right-hand side of your screen to view our navigation menu.
Make A Deposit. Make A Difference.
At Etown, Educate for Service is more than just our motto. That is why for the second consecutive year, we are launching our 'Make a Deposit. Make a Difference.' campaign. Through this initiative, Etown will match 100-percent of all deposits made during the month of February by the incoming Class of 2025. Our goal is to raise $15,000 which will be donated to Elizabethtown-area non-profits impacted by COVID-19. When you're ready, secure your spot and help us make a difference!
The College's motto Educate for Service was adopted in 1915. Educate for Service expresses our campus community's belief that the pursuit of knowledge is most noble when used to benefit others.
Current Donation Total:
Dollars!
Opening Remarks
10 - 10:15 a.m. (EST)
Hear from Elizabethtown College President Cecilia M. McCormick, J.D. as well as some of our current students as we kick off our Accepted Student Day! This session will cover the the schedule for the day and much more. Note: This session will move continuously into the "Home Away From Home" session so no need to re-enter the Zoom webinar. Click here for tips on how to use Zoom.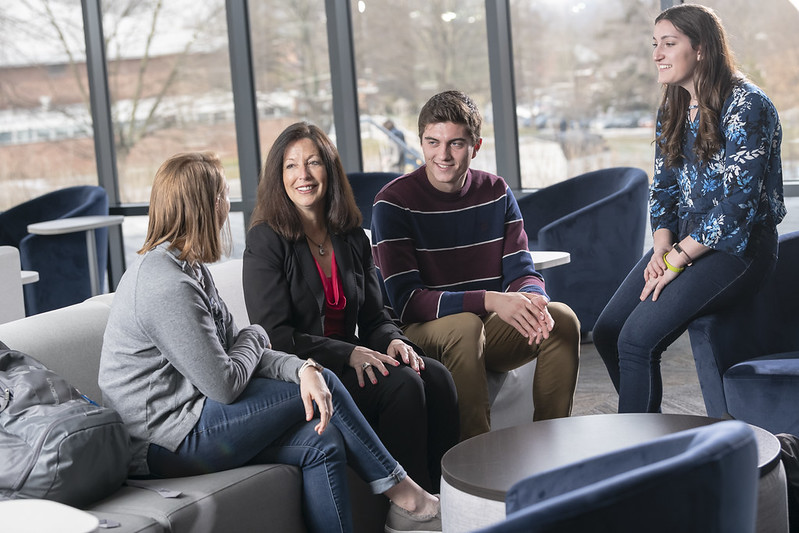 A President and Parent
"As a parent myself, I understand firsthand how important the decision is to choose a college for your loved one. In addition to providing an exceptional education and student experience at Etown, I can promise to you, our College community will support and nurture your student to think critically, analyze deeply, and communicate effectively."

–President Cecilia M. McCormick, J.D.
Home Away From Home
10:15 - 11 a.m. (EST)
Etown promises a supportive, caring, and vibrant community which is why 85% of our students live on our beautiful 200-acre residential campus. First-year students live in our traditional residence halls followed by expanded options of apartment-style living and Student-Directed Learning Communities as upperclassmen. Our dining services offer a variety of options including an all-you-care-to-eat Marketplace, our own food truck, and other grab-and-go options. We also offer state-of-the-art ammenities in our brand new Bowers Center for Sports, Fitness and Well-Being as well as resources including Student Health and Counseling Services to help you take care of both mind and body. In this session. you'll learn why we don't just call it a campus, but a home away from home.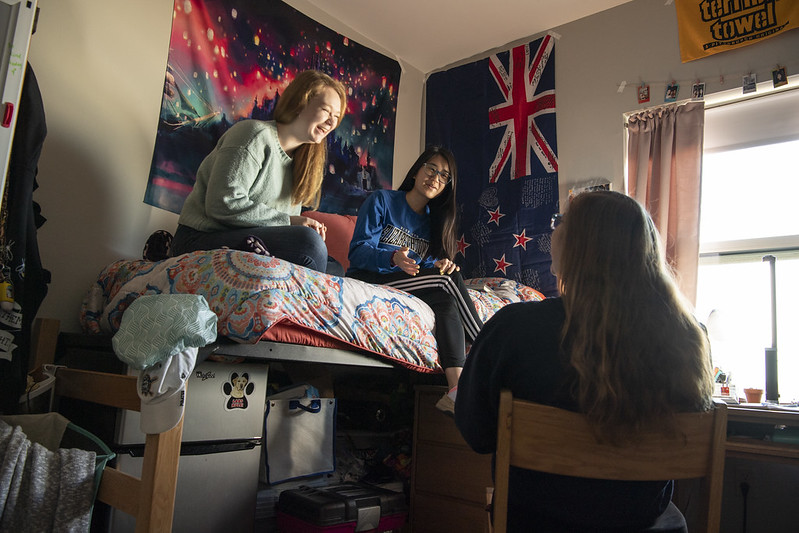 Concurrent Sessions
Session One: 11 - 11:30 a.m. (EST)
Session Two: 11:30 - Noon (EST)
Etown has so many resources available to our students so that you feel supported and can live your best life. The first set of concurrent sessions begins at 11 a.m. Another set of the same sessions will be offered at 11:30 a.m. so you have the chance to experience more than one! Select the topic that calls to you and enter the Zoom video session.
The Academic Experience from First Year Through Graduation and Beyond
Elizabethtown College offers signature learning experiences as unique as you are. As a part of your journey here, you are guaranteed to experience at least two of our five Signature Learning Experiences including 1. Supervised Research, 2. Internship, Practicum, or Field Placement, 3. Cross-Culture Experience, 4. Community-Based Learning, 5. Capstone Course, Portfolio, or Project. In this session, you'll learn how we'll take you from "general applicant" to "coveted recruit".
Accomodations for Students with Disabilities
Elizabethtown College has a long-standing tradition fostering the values of peace, non-violence, human dignity, and social justice. Aligning our practices with these core values, the Office of Disability Services is committed to providing equal access for students to all courses, programs, services, and activities. Learn about the resources we have available to help any student be successful no matter what level of need.
Honors Program
The Etown Honors Program provides students who have excelled both in academic and extracurricular activities with enhanced learning opportunities. Students who are admitted to the program are encouraged to maintain high standards of scholarship, leadership, and service worthy of their intellectual promise and demonstrate initiative throughout your time at Etown. This program offers the opportunity to handcraft your college experience through additional interdisciplinary work, closer access to faculty scholars, and additional support in applying for fellowships and scholarships.
Study Abroad & Prestigious Scholarships And Fellowships
Our students have continuously cited that studying abroad served as a catalyst for change and inspiration in their lives, both personally and academically. While abroad, our students have the opportunity to take classes at a local university, intern at businesses within the community, and/or volunteer at various regional organizations.
Diversity & Inclusive Excellence
Elizabethtown College is committed to providing an environment that affirms both human differences and similarities. In this session, you'll learn about how our Office of Diversity and Inclusion provides opportunities for the campus community to participate in a number of educational and cultural events that showcase various cultural and ethnic groups.
Campus Wellness in the Time of Covid-19
Our Bowers Center for Sports, Fitness and Well-Being and provides health and wellness educational programming and resources to the Etown community. Our programs foster the physical, emotional, and psychological well-being and development of our students in order to facilitate your personal, social, and academic success. In this session, you'll learn more about our wellness resources spanning from a brand new fitness center, to our relaxation room to our hi-tech demonstration kitchen!
The Bowers Writers House
The Bowers Writers House at Elizabethtown College is an interdisciplinary venue for expression, study, presentation and performance. Created to promote and support a culture of "creative curiosity," Bowers Writers House brings a new sense of excitement and enthusiasm for intellectual diversity to our on and off-campus communities. In this session you'll learn about the different programs we offer to help our students express themselves!
Activities Fair & Athletics
Noon - 12:30 p.m. (EST)
We don't just promise a supportive, caring, and vibrant community, we live it with 85% of our students living on our beautiful campus. Etown's student-centered culture is at the heart of everything we do from being known for faculty mentoring to connecting students to nearby city centers for internship and career opportunities to the way we intentionally bridge community life, service, athletics, arts, and academics so you can discover your most fulfilling path. Below you'll find a variety of clubs and activities we offer at Etown. Just click the one you'd like to learn about to jump into a Zoom discussion. You can also view a complete listing of Etown's clubs and organizations.
Etown Digital Library
Etown Instagram Live Tour
Elizabethtown College Vision