What does Diversity look like at Elizabethtown College?
Diversity at Elizabethtown College is an ongoing development. Student leaders, faculty, staff, and administrators work very closely to determine where diversity efforts can be strengthened. We work very closely with our athletics departments to ensure that students are safe and supported.
Student-Led Efforts
Many diversity efforts on campus are supported, led, and/or founded by students. Currently, there are around 7 student groups that focus specifically on diversity and multi-culturalism.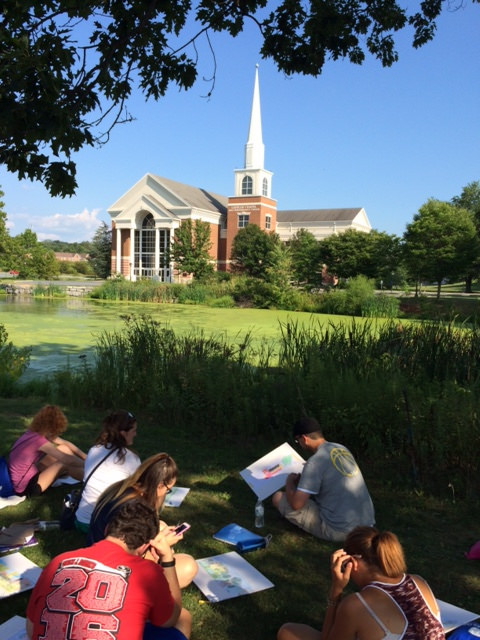 Noir - our diversity student union. Noir meets regularly to discuss campus & global current events in relation to diversity, along with planning social events for students interested in diversity & inclusion.
Better Together - a group for students of various religious and non-religious backgrounds to discuss current issues and to advocate for global peace.
Allies - our gay-straight alliance. Allies meets weekly to discuss topics surrounding gender & sexual orientation, along with planning several social events every year. 
Hillel - a group for Jewish students to meet weekly for dinner and conversation. Students are active on campus & in the local community, hosting an annual Seder, organizing Holocaust Memorial Day events & arranging programs for Jewish residents of the Masonic Village.
Momentum Society - a group to educate & advise our first-generation students. The society provides additional support to students beyond the more formal academic advising program.
No Boundaries Club
International Leaders Team - a team of 8 students who work through the Office of International Students and Scholars to promote internationalization & support international students on campus.
6 Year Graduation Rate of Domestic Diverse Students
Scholarship Support
As part of our diversity efforts, enrollment of diverse and multicultural students is a priority. As such, we have scholarships and financial aid endowments specifically for diverse and special interest students such as the Mosaic Scholarship, and International Student Endowments specifically for students living in areas of conflict.
Through our efforts, we have increased the number of diverse and multicultural students on campus. Fourteen percent of the Class of 2019 are domestic ALANA (Asian, Latino, African, and Native American) students.
Mosaic
The Mosaic Award is offered to students who bring to Elizabethtown an important perspective on the many aspects of diversity, as demonstrated by their experiences and activities.  The hope and expectation is that Mosaic Award winners will continue to contribute to the wider world with Elizabethtown College. Learn more about the Mosaic Scholarship.
Services on Campus
Once on campus, we make it a commitment to our students, especially our multicultural and diversity students, to helping to make sure that they graduate in six years or less. Counseling Services provides services specifically for supporting diverse students. Our Momentum program provides support to First Year students from diversity, multicultural, and first-generation college families. Safe Zone aims to protect student interest in the classroom as well. Currently, there are over forty faculty and staff Safe Zone certified.
We additionally have a dedicated, full-time staff member on campus to coordinate diversity workshops and develop strategic initiatives on campus. Our Director of Diversity, Equity & Belonging is committed to making Elizabethtown a safe and welcoming environment for all of our students.
Inclusive Housing Options
Gender Inclusive Housing provides an incredible opportunity for gender nonconforming students. Complete gender inclusive housing is available in the Apartments and Quads for upper-class students, and a portion of Founders Residence Hall offers gender inclusive housing for under class students.
Momentum Program
Our Momentum Program is part of First Year Orientation and is aimed at making the transition for first-generation college students as smooth as possible. Students are more likely to graduate in four years if they receive mentorship and transition help in their first year. At Elizabethtown, we make a commitment to helping all of our students to adjust to college as easily as possible.