The admissions process at Etown is holistic and interactive. We determine how you will fit in our community, then you assess how our culture and community fit with your desires and expectations. This method ensures you can be successful academically, and that you also will find a second home where you will develop lifelong friendships and grow, both personally and professionally.
When you apply, we look at all the components that make you unique and suggest you'll succeed at Etown. In addition to your academic track record, we pay close attention to other interests and community contributions. We value the connection between personal interests and professional success, and we emphasize out-of-class experiences in our curriculum. Our model is to enrich your education by engaging your personal interests inside the classroom. We encourage real-world learning experiences outside the classroom and believe that this will best prepare you for life after college.
Fit Factors
In the Classroom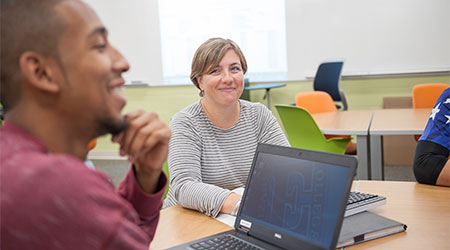 When determining your academic fit at Elizabethtown, we consider:
Quality of high school curriculum
SAT/ACT scores (Unless you qualify for Standardize Testing Waiver)
Cumulative GPA
Class rank
Academic awards and honors
Out of the Classroom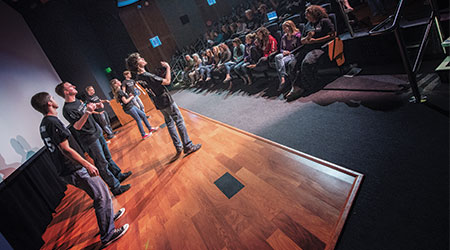 Social fit is determined by a number of things including:
Co-curricular activities
Letters of recommendation
Social involvement
Fitness, wellness & athletics involvement
Find Your Place On Campus
Etown offers a variety of opportunities for you to get involved. We keep the needs and desires of our students in mind as we structure events and activities. We appeal to creative, athletic and musical interests. 
Campus Life
Our students are actively involved on campus. Community Living works to make sure students are happy, engaged, active, safe and healthy on campus. As a first-year student, you will live in a traditional residence halls. You also will have the opportunity to choose to live with students who share common characteristics or interests in one of our Living-Learning Communities (LLCs). As an upperclassman, you can choose to live in our on-campus Vera H. Hackman Apartments or in house-style living in the Schreiber Quadrangle and Student Directed Learning Communities (SDLC).
Community Living plans plenty of activities and events inside the residence halls, regardless of where you choose to live. Some of our activities and events include:
Holiday door decorating
Pinterest craft nights
Super Bowl parties
Domestic violence awareness education
Safe sex education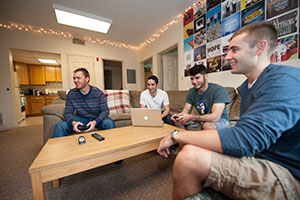 Clubs and Organizations
The Office of Student Activities (OSA), is responsible for planning activities and events to complement Community Living efforts. Students Working to Entertain Etown (SWEET), a subset of OSA, is responsible for planning weekend activities for our students. Many of our clubs also are focused on issues of diversity and inclusion. In total, there are about 80 clubs on campus.
Examples of Clubs
Traditional Clubs
Honor Societies
Student Senate
Education Club
Mock Trial
Non-Traditional Clubs
Anime Club
Etown Shreds (snowboarding club)
Mad Cow Improv
Three a cappella singing groups
Staying Fit
We offer dozens of fitness, wellness and athletics programs on campus. Thompson Gymnasium houses our 24 varsity athletics teams and a number of intramural teams. We also provide E-fit (themed fitness) classes) that are hosted nearly every night of the week during the academic year.

Pound
Full body cardio jam session

Zumba
High-intensity Latin dancing

Spinning
Intense stationary group bike ride

Global Beats
International music and moves

Body Pump
Weight lifting with great music
The Body Shop, our free on-campus gym, and the Alumni Pool, our indoor swimming pool, cater to individual student wellness and exercise interests. The Body Shop offers long hours for workouts at all hours. The Alumni Pool houses men's and women's swim teams but also offers open swim times available to all students year-round.