Blue Jays Beginnings Summer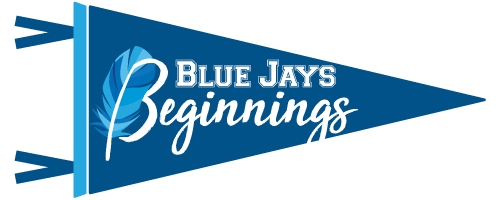 Summer Orientation is a one-day experience for incoming students. Sessions are offered on June 20, 21, 22, and 23, 2018. Students and families may select one of the four sessions through the Orientation Forms website beginning in January.
2018 Student Schedule (subject to change)
You can find a printable PDF of the schedule here.
8 a.m.
REGISTRATION AND INFORMATION FAIR-
Register, continental breakfast, academic and student engagement fair.
9:00 a.m.
WELCOME AND ANNOUNCEMENTS-

Thompson Gymnasium


Recognition of the class of 2022 and their families: introduction of the First Year Seminar Peer Mentors
9:15 a.m.

PICTURE THIS, GET CONNECTED, & BLUE JAY SWAG-  Tempest Theater, Baugher Student Center
Photographs for student ID, photo opportunities for social media, assistance for adding email to the students' mobile phone, how to connect students' electronic devices to the campus Wi-Fi network. Elizabethtown College "swag" sale in the College Store and Brossman Commons Concourse.

ORIENTATION ESSENTIALS FOR PARENTS AND FAMILIES  Musser Auditorium of Leffler Chapel
Presentations about FERPA, Financial Aid, Student Employment, PSECU, Experiential Learning and Curricular Costs, Dining Services, Accommodations and Compliances, Athletics, and a time for Discussion/Questions & Answers

10:45 a.m.

ACADEMIC ADVISING FOR BLUE JAYS- Gibble Auditorium Esbenshade Hall
Representatives from Academic Affairs, Registration and Records, Academic Advising and the Center for Student Success, Career Services, and Information Technology Services will introduce students to resources for academic advising.


11:30 a.m.
THE FIRST YEAR EXPERIENCE- *students join parents in

Musser Auditorium of Leffler Chapel


Overview of the Core Curriculum and Signature Learning Experiences by Kristi Kneas: Dean for Academic Affairs and Faculty Development. Overview of the First Year Program and Sophomore Year Experience.
12:00 p.m.
SUMMER PICNIC-

Location to be announced


Students and families join First Year Seminar Peer Mentors forming into Blue Jay Flocks to meet the student's First Year Seminar faculty/academic advisor.
1:15 p.m.

FIRST YEAR SEMINAR MEETINGS- Various Locations
Students learn about the subject of their First Year Seminar, academic advising and peer mentoring in the First Year Program, receive and review their academic schedule for the Fall 2018 semester.

FINANCIAL MATTERS FOR FAMILIES-  Gibble Auditorium
Representatives from the offices of Financial Aid, the Business Office, Human Resources/Student Employment and PSECU will facilitate presentations and discussions for parents.

2:15 p.m.
WELCOME TO THE NEST-
First Year Seminar Peer Mentors introduce the Blue Jay Flocks to the campus from a students' perspective and offer assistance navigating Jay Web, Canvas, Starfish.

PARENTS MEET WITH FYS FACULTY -

Various locations

3:00 p.m.
Community Living & STUDENT WELLNESS -*At 3:00 p.m. students join parents in

Musser Auditorium of Leffler Chapel


Marianne Calenda; Vice President for Student Life and Dean of Students joined with representatives from Student Life introduce Community Living, highlighting various Living Learning Communities with an overview of student wellness resources and programming.
3:45 p.m.
RESIDENCE HALLS OPEN HOUSE-

Various locations



3:45 p.m.
FINANCIAL AID OPEN HOUSE-

Zug Memorial Hall 208

3:45 p.m.
ACCOMMODATIONS/COMPLIANCE OPEN HOUSE-

Baugher Student Center 226-239

3:45 p.m.
STUDENT WELLNESS OPEN HOUSE- 

Baugher Student Center 216

3:45 p.m.
CHAPLAIN & RELIGIOUS LIFE OPEN HOUSE-

Brossman Commons 253

4:00 p.m.
MOMENTUM ORIENTATION -

Hoover Hall 212

4:30 p.m.
FAREWELL FOR NOW -

Baugher Student Center Terrace (tent)

Stop by and visit should you have any last minute questions.