The Stamps Scholarship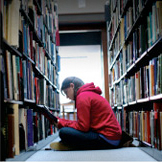 Deadline: February 1
Five exceptional first-year students will be selected to receive this prestigious scholarship from the Stamps Family Charitable Foundation. This exclusive program has been created to recognize students who exemplify leadership, perseverance, scholarship, service and innovation. Elizabethtown College is one of the few elite educational institutions with which Stamps has partnered, joining University of Michigan, Georgia Institute of Technology, University of Miami, University of Virginia, California Institute of Technology, UCLA and University of Illinois.
Stamps Scholars Receive:
Recipients of the Stamp Scholarship receive monetary awards, individual mentors and extra opportunities. Our Stamp Scholars are expected to remain exemplary students after stepping foot onto campus. They are given extra opportunities to attend retreats, conventions, banquets and lectures.

Full Tuition Scholarship
The award covers 100 percent of the total cost of tuition at Elizabethtown College. As tuition changes from year to year, the scholarship adjusts to cover the new amount. This scholarship is renewable for all eight semesters the scholar is on campus.

$6,000 Enrichment Fund
A generous enrichment fund allows scholars the financial flexibility to be a bigger part of the world. Scholars can use the fund to study in another country, conduct a service project, facilitate an exciting internship, or fund another qualified educational endeavor of their choice. Students are encouraged to use this fund to follow their passions and serve others.

Personal Mentor
We believe that mentors play a significant role in the success of our students. All Stamp Scholars receive a personal mentor in their chosen field. Whether it is a faculty member or an alumnus of the College, the mentor will support the scholar in reaching academic and personal goals throughout the his or her time at Elizabethtown College.
How to apply:
Eligibility
All students admitted to Elizabethtown College will be considered for this scholarship. High academic achievers who exemplify leadership, perseverance, scholarship, service, and innovation will receive the strongest consideration. Candidates are encouraged to schedule an interview with the Office of Admissions.
Application and Selection Process
Submit a completed application for admission to Elizabethtown College by February 1. For those who already applied to Elizabethtown College, no separate application is required to be considered for the Stamps Scholarship. An Admissions interview is strongly recommended, but no additional interview is necessary.
Elizabethtown College will select up to ten finalists to interview with the Stamps Family Charitable Foundation.
Scholarship winners will be announced by the Stamps Family Charitable Foundation by March 15.
Have Questions?
Contact Lauren Deibler at deiblerl@etown.edu or 717-361-1400 in the Office of Admissions.
About the Stamps Family Charitable Foundation
Inspired by the impact that their university experiences have had on their lives, Penny and Roe Stamps have chosen to support exceptional students in their pursuit of higher education. They have worked with great universities to create programs offering enriched educational experiences for Stamps Scholars. It is their hope that today's Stamps Scholars will become mentors and supporters of the next generation of promising young students. Learn more.