Be Exceptional at Etown
At Elizabethtown College, we're not interested in basic. We want exceptional! That is why we combine the most sought after professional programs across our six schools. Etown offers more than 60 majors and over 100 minors, each grounded in our College's mission of Educate for Service. Through our Virtual Academic Days virtual events, you will have the opportunity to talk with our expert faculty discover which path you should choose. Just know that no matter which road you take, an education at Etown will make exceptional.
Six Schools. Unlimited Possibilities.
Our flock is made up of doctors, lawyers, artists, engineers, musicians, therapists, teachers, entrepreneurs and much more. The one thing they all have in common is they were taught by our outstanding professor-mentors. Register for the school of your choice to meet with our faculty and learn just how our student-centered culture is at the heart of every subject we teach. Each school presentation is scheduled for 4 p.m. and will last 45 minutes. 
Schools Presentations
Click on the school below to join the presentation!
School of Business
At Etown, you're able to design your own path and leave a footprint in the business world. As you chart out your goals and work to achieve them, Elizabethtown College's School of Business professors are with you every step of the way. Through interactive learning approaches and small classes, you'll gain the business acumen and leadership skills essential to lead organizations in the 21st century.
Session begins Monday, February 15, 4 - 4:45 p.m.
School of Arts & Humanities
Go beyond basic. The Elizabethtown College School of Arts and Humanities is where creativity and passion come together to be your guide to a fulfilling life and career. You'll receive the kind of education that allows you to do what you love so that you can love what you do while being rewarded and recognized for your hard work. We'll help you craft your vision for the world and bring that vision to life.
Session begins Monday, February 15, 4 - 4:45 p.m.
School of Engineering and Computer Science
From creative problem solving to complex equations, our students are always searching for solutions to create a positive impact on the world. The Elizabethtown College School of Engineering and Computer Science combines hands-on learning with real-world experience to help our students become experts in their field.
Session begins Tuesday, February 16, 4 - 4:45 p.m.
School of Sciences
Live your life on the cutting edge. The Elizabethtown College School of Sciences will have you seeking the answers to life's biggest questions. We pair advanced techonology with hands-on research to help you make the world we live in a better place.
Session begins Wednesday, February 17, 4 - 4:45 p.m.
School of Public Service
Whether you're changing policies, changing minds, or changing lives, Etown gives you the skills to change the world. The Elizabethtown College School of Public Service is your first step toward becoming a changemaker and improving the lives of those around you. Etown's School of Public Service allows you to become a leader in your community and an essential part of the lives of others.
Session begins Wednesday, February 17, 4 - 4:45 p.m.
School of Human & Health Professions
An Etown education is for people who feel the pull to contribute to the world. The Elizabethtown College School of Human and Health Professions integrates our students' compassion with professional study. Our students learn to make an impact through their work both inside and oustide the classroom. Be the change you wish to see with Elizabethtown College's School of Human and Health Professions.
Session begins Thursday, February 18, 4 - 4:45 p.m.
The Value of Etown
While we'll never make you feel like just another number, we don't mind using a few to describe ourselves. Here are a few reasons to take a look at the one and only Etown.
24
NCAA DIII Athletic Teams
76
Clubs and Organizations
96%
of students receive Financial Aid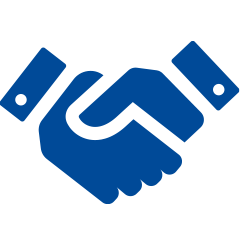 95%
of students are employed or in graduate school within a year of graduation
Explore Our Campus
Elizabethtown College has a beautiful 204-acre residential campus nestled in to Elizabethtown, Pennsylvania. From comfortable dorm rooms to amazing food at the Jay's Nest, Etown has something for everyone. Check out our self-guided 360 degree virtual tour at your own pace and at any time or join our Assistant Director of Admissions, Monica Venturella for a quick walk through campus video!