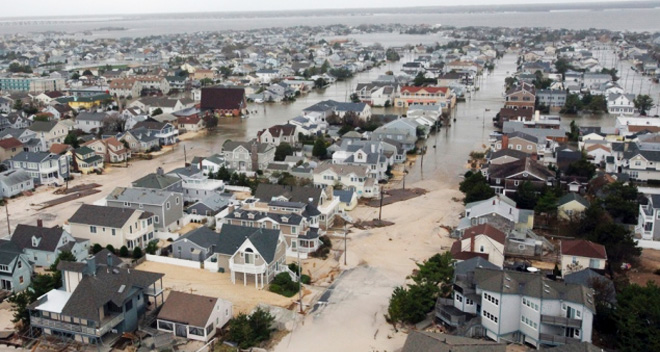 12/20/12: The Hurricane Sandy Relief efforts are complete - our office delivered the last of the shipments in mid-December. Thank you to all who donated items for our neighbors in NY and NJ.
Hurricane Sandy Relief
Donations of physical items can be dropped off at the Center for Community and Civic Engagement's office:
Nicarry Hall, Room 237
717-361-3025
Elizabethtown College is sponsoring a campus and community disaster relief effort for those affected by Hurricane Sandy. We invite faculty, administration, staff, students, alumni and friends of the College to participate in this disaster relief service project. We ask that all individuals and groups report their related projects to the Center for Community and Civic Engagement so that it can be included on the campus-wide project listing and on reports about college campus relief efforts.
The following options are available for you to help:
Your individual or group project. Please register your project with the CCCE.
Monetary contributions should be made directly to the American Red Cross.
Fundraiser Contributions should be deposited in the Disaster Relief Account set up and maintained by the business office. Students should take their contributions to the business office to be deposited and get a receipt for the funds.
Belmar, Monmouth County, N.J. Elizabethtown College will partner with the Borough of Belmar, located just south of Asbury Park, Monmouth County, NJ, to provide supplies for its residents that lost their homes and belongings to Hurricane Sandy. This personal approach will provide us the opportunity to help those in need and to also follow developments as the borough recovers from this disaster. We will receive updates and photos of progress as it is made. A representative from Belmar will pick up supplies from Etown College on December 3.
Most Urgent Needs:
Toiletry packs: washcloth, soap, toothbrush, toothpaste, deodorant (please place in a quart Ziploc storage bag)
Blankets
Towels
School Supplies and backpacks
Cleaning Supplies
Laundrey Detergent
Dish Soap
Batteries
Flashlights
Games for kids and school supplies
Depends/Adult Diapers
Denture Cleaners
Medical Supplies
Diapers and Wipes
Bottles and Sippy cups
Baby/Toddler cereal and nonperishables
Toys (gently used and clean)
Coloring books, crayons and children's books
Toiletry packs are a great project for clubs and organizations. Any leftover items will be combined to make additional toiletry packs.
Many small gestures of generosity and compassion will inspire hope. Other opportunities to help the Elizabethtown College Disaster Relief Initiative will be posted as we hear about them.
Please thoughtfully consider participating in this critical service project as an individual, group, or residence hall challenge. If you have questions, please contact the Center for Community and Civic Engagement at 717-361-1108 or 717-361-3025.
Thanks to our Donors:
The Center for Communtity and Civic Engagement extends its gratitude to the facuilty, staff, students, and community members who have contributed to the Huricane Sandy Relief effort. Our gratitude is exteneded, but not limited to, the following individuals and organizations.
Faith Shiffler
David Kenley
Jennifer Bessee
Megan Donohoue
MarryAnne Ober
Paty Hivnzr
Cathy Guterman
Pioneer Hybred
Ed. Org
Royer Residence Hall
Founders Residence Hall 
Brenda Landvater
Monica Cisneros
Sharon Farnish
Gene Behrens
Elizabethtown College Music Deptartment
Vivian Bergel
Environmental Service
Susan Asbury
Debbie Peterson
Cathy Guterman

Leslie Pierce

Mary Ann Royer

Fabric land

Sew-a-thon

Theresa Mastrobuono