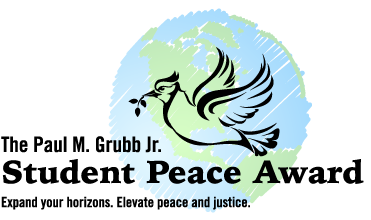 Deadline: April 1
Application - Jayweb Login Required                
The Paul M. Grubb Jr. Student Peace Award aids Elizabethtown students in spreading peace and justice to the larger world. The winner receives $2,000 to help him or her to implement a research or service project focused on peace and justice objectives. 
Paul M. Grubb, Jr. was an alumnus of Elizabethtown College ('55), a conscientious objector, and a committed advocate for peace. He died of a rare form of cancer in 1985 at age 53. In 2008, his widow Lavonne established the Paul M. Grubb, Jr. Student Peace Award to honor and encourage the kind of work in which he believed so deeply.
To be eligible for this award, you must create a proposal for a service or research project focused on peace and justice objectives. The winner will receive a $2,000 award to help him or her accomplish their goals.
Proposal tips:
Take time to think through your proposal with care.
Highest consideration will be given to those showing evidence of thought, clarity, and specificity.
Avoid vague generalizations.
A winning application could mean a pivotal experience in your life. The more you put into it, the greater the return.
Established Programs
Students may either propose a project of their own making or work in an established program. The following organizations offer excellent opportunities for short-term internships and volunteer work related to peacemaking: 
Friends Committee on National Legislation(FCNL) – www.fcnl.org (Washington, D.C.) -  Founded in 1943 by members of the Religious Society of Friends (Quakers), FCNL's nonpartisan, multi-issue advocacy connects historic Quaker testimonies on peace, equality, simplicity, and truth with peace and social justice issues. FCNL fields the largest team of registered peace lobbyists in Washington, DC and has a particular mission to train young adults to advocate for peace and justice. FCNL offers a limited number of summer internships in its Washington office and provides some assistance in locating housing. Applications are accepted Nov. 1-March 1 at jobs@fcnl.org. For more information, see http://fcnl.org/about/jobs/summer_internships/

Agape-Satyagraha Conflict Resolution Training - Be a summer intern for this Brethren Community Ministries program in Harrisburg, PA. The program trains urban youth to resolve conflict using methods inspired by the teachings of Mahatma Gandhi and Martin Luther King, Jr. This is a ministry of the Harrisburg Church of the Brethren.

Volunteers for Peace -www.vfp.org (International) - VFP coordinates international work camps and volunteer opportunities for many other organizations. Wide variety of countries and projects. Browse projects at www.vfp.org/projectsearch.aspx

New Community Project - www.newcommunityproject.org (Harrisonburg, VA, South Sudan, Nepal, Myanmar) NCP is a small nonprofit organization with a big goal: to change the world. NCP works at issues of human justice and environmental sustainability, and provides experiences that invite transformation. NCP's Sustainable Living Homestead in Harrisonburg, VA invites apprentices to be involved in the Muddybike urban organic garden, work with refugees and people recovering from homelessness and abuse, learn about sustainable building practices, and participate in community-based advocacy and outreach projects. NCP also sends Solidarity Workers for six-month terms to South Sudan, Nepal and Myanmar to work in schools (S. Sudan), reforestation projects (Myanmar, S. Sudan), and/or women's programs (S. Sudan, Nepal). Contact director David Radcliff (ncp@newcommunityproject.org) for more information. (This organization was an outgrowth of peace work in the Church of the Brethren.)

On Earth Peace – www.onearthpeace.org (New Windsor, MD) - A Church of the Brethren organization founded to foster peace by providing skills, support, and spiritual foundations for overcoming violence with the power of love, through a range of powerful programs of training and accompaniment. Although we are an agency of the Church of the Brethren, we have an independent peace mission that works with all kinds of groups including schools, churches, community organizations, businesses, government agencies, and others. Contact Marie Benner-Rhoades (mrhoades@onearthpeace.org) for available project areas.

The Carter Center - www.cartercenter.org (Atlanta, GA) - Founded by President Jimmy Carter, The Carter Center partners with Emory University to "to prevent and resolve conflicts, enhance freedom and democracy, and improve health." College juniors and seniors are eligible for internships in one of the Center's Peace Programs, focusing on The Americas, China, Conflict Resolution, Democracy, Global Access to Information, or Human Rights. The Carter Center assists interns in finding housing in private homes or apartment sublets. Some additional financial aid may be available on a need basis. Summer internship application deadline: March 1. (http://www.cartercenter.org/involved/internship/peace-internships/index.html)

Friends Peace Teams – www.friendspeaceteams.org (international) - Organized summer work camps in Africa and Peace Team trips to Asia and Latin America.

Christian Peacemaker Teams - www.cpt.org (international) CPT places teams at the invitation of local peacemaking communities that are confronting situations of lethal conflict. These teams seek to wage nonviolent direct action to confront systems of violence and oppression.

Alternatives to Violence Project – www.avpinternational.org and www.avpusa.org. Projects vary, but range from work with inmates in U.S. prisons to trainings to address domestic violence in high-conflict areas like Gaza and the West Bank. Most projects are coordinated by seasoned volunteers, so contacting them directly is necessary. Some weekend trainings in AVP conflict transformation may be necessary in advance. 
Faculty-Led Global Immersion Programs -  www.thinkimpact.com. " Through ThinkImpact's faculty-led global immersion programs, students work in rural, developing communities in Panama, Rwanda, Ghana, Kenya, and South Africa to build or support social innovation and entrepreneurship. ThinkImpact trains students to start or contribute to enterprises that generate income, promote health, feed local residents, empower communities, and enhance education. Faculty-led institutes last from eight days to eight weeks. The organization provides technical support in addition to research and impact evaluation."
Past Award Winners
Cameron Dorr, 2018
During the summer of 2018, Cameron traveled to Shanxi, China, to research the role of Brethren peacemakers in China during the early twentieth-century.  He analyzed how the Brethren missionaries were able to cross the cultural divide between the west and east and establish themselves as a force for peace during one of China's most violent and chaotic periods in history.
Josephine Stommel, 2017
Sarah Fuller, 2016
In preparation for a career in International and Comparative Education, Sarah Fuller interned for IHI International, an NGO that evaluates and responds to the needs of those with disabilities, specifically through education and inclusion.  She researched cultural attitudes toward individuals with disabilities and then created resource packets for volunteers who travel to specific regions providing special education training.
Bhim Thapaliya, 2015
Bhim Thapaliya founded the Act for Humanity Foundation (AFH) to help immigrants learn English language and navigate American culture. He also sends aid to the impoverished in his home country, Nepal.
Jessica Leidy, 2014
A Fulbright Scholar, Jessica Leidy uses her mathematics secondary education major and leadership experience to bridge cultural boundaries. She studied cross-cultural relationships in The Gambia and is currently teaching English and math in Malaysia.