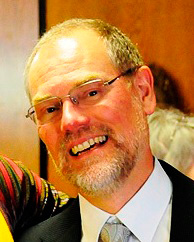 More about Jonathan Rudy:
Jonathan Rudy
In twenty-five plus years of working at peacebuilding and development around the world I have observed that there is more at work to transforming destructive conflict than just formulas, models and training packages. Whether through facilitating peacebuilding classes, doing ceasefire monitoring, restorative justice or nonviolent strategizing, I have been inspired by the passions of those persons who have a vision to seek peace.
Seeking solutions through imagination and creativity, I am a big picture thinker and base my actions and recommendations on restorative practices. I have worked in Africa and Asia facilitating strategic peacebuilding and development from a partner and relational orientation through field assignments, leadership postings and regional levels portfolios.
Key lines of inquiry in my life's work at this moment are:
the role of imagination in nonviolent approaches to conflict transformation;
interconnection between individuals and the environment;
the nature of subtle energies and mystery;
detachment, observation and non-judgment in creating dialogue space.
Clients include; CDA Collaborative Learning Projects, Catholic Relief Service, Eastern Mennonite Seminary, Interfaith Center Conciliation and Nonviolence, Ka-ili-Yan Peacebuilding Institute, Lingana Foundation, Mennonite Central Committee, Mennonite Disaster Service, Mindanao Peacebuilding Institute, On Earth Peace, Oxfam GB, Oxfam Novib, United States Institute of Peace, VS Networks
African experience in the following countries: Botswana, Burkina Faso, Djibouti, Kenya, Mozambique, Somalia, South Africa, South Sudan, Swaziland, Uganda, Zambia, Zimbabwe
Central and Southeast Asia experience in the following countries: Afghanistan, Australia, Bangladesh, Cambodia, China, East Timor, Indonesia, Iran, Philippines, South Korea, Laos, Myanmar (Burma), Nepal, Sri Lanka, Thailand, Vietnam