School of Continuing and Professional Studies (SCPS) Graduates
Saturday, May 19, 2018 at 4 p.m.
Location: Leffler Chapel and Performance Center
A reception will follow by Lake Placida.
Tickets are required. Graduates who have informed the School they will be attending commencement will receive tickets to the ceremony. Tickets will be mailed to student's homes in mid-April.
Address: 880 E College Ave, Elizabethtown, PA 17022 
Rehearsal
Wednesday, May 16 from 5 to 7:30 p.m.
Leffler Chapel and Performance Center
There will be a Commencement rehearsal at Leffler Chapel and Performance Center. You are strongly encouraged to attend. If you have class that evening, it is understood that you cannot be there. There will be a mini-fair prior to rehearsal where graduates can check out items from the College Store, connect with Financial Aid, and sign up to become part of the Elizabethtown College alumni network.
5:00-6:00 p.m. - Mini-Fair
6:00-7:30 p.m. - Rehearsal
The official graduation invitation will be mailed to you in the beginning of April.
Day of Commencement
Parking will be at a premium on and near campus. Campus Security will be directing traffic on campus.
Photos by Island Photography – visit the Island Photography website at http://orders.islandphoto.com/Apps/RegisterGraduates.aspx for information.
A reception immediately follows the ceremony.
FLOWERS: half-dozen roses with greens and colorful wrapping ($20), a dozen roses with greens and wrapping ($30).
Flowers available at 3 p.m. just prior to the beginning of the Commencement ceremony in the lobby. Quantities are limited, so plan to get your flowers early. Sorry, no advance orders.
Speaker
Nancy Dering Mock '76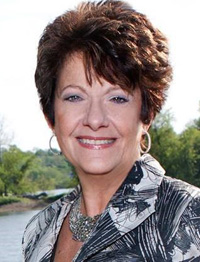 Nancy Dering Mock '76 earned her bachelor's degree from Elizabethtown College and her master's degree, with highest honors, from Temple University. In 2001, she was selected to participate in the prestigious Program for Senior Executives in State and Local Government at the John F. Kennedy School of Government at Harvard University and, two years later, participated in the National Security Seminar at the U.S. Army War College.
Ms. Dering Mock, a member of Elizabethtown College's Leadership Council, has served as an adjunct faculty member at the H. John Heinz School of Public Policy and Management at Carnegie Mellon University and is founder of The Dering Consulting Group, for which she was president from 1986 to 1999. She served as deputy secretary for human resources and management, as chief human resources officer and as a member of the governor's senior staff for the Commonwealth of Pennsylvania. She also was president of the National Association of State Personnel Executives and was the 2006 recipient of National Association of State Personnel Executives' Eugene Rooney Award for Leadership in Human Resources.
Ms. Dering Mock has served on a variety of boards in Pennsylvania's Capital Region including Harrisburg Young Professionals, the YWCA and Leadership Harrisburg Area. Currently, she serves on boards for the Foundation of First Coast Technical College and Gettysburg Lutheran Seminary.
She was selected as one of the YWCA's Tribute to Women of Excellence honorees in 2004, was named one of
Harrisburg Magazine
's 2006 Movers and Shapers and was given the Harrisburg Chamber's 2006 Athena Award. She also was named one of
Central Penn Business Journal
's 2012 Women of Influence. Ms. Dering Mock is the 2013 recipient of the Association of State Personnel Executives Central Pennsylvania Chapter's Lifetime Achievement Award and the United Way of the Capital Region's 2013 Volunteer Leadership Award.
She is married to Phil Mock, a retired U.S. Army Colonel and social activist for the "untouchables" of India. Together, their family includes five children and seven grandchildren.
In recognition of leadership and community service, it is a great honor to present Nancy Dering Mock '76 for the degree of Doctor of Business,
honoris causa
.
Graduate Student Speaker
Kimberly Jeanne Stoltzfus
Kim holds a Bachelor of Science degree in Accounting from Millersville University and is a certified public accountant in the State of Pennsylvania. She has held various accounting related positions over the years and is currently employed as the Director of Finance & Information Technology at National Novelty Brush Company. She has earned her Master of Business Administration degree from Elizabethtown College.
Undergraduate Student Speaker
Michelle Christine Hackman
Michelle has earned her Bachelor of Science degree in Business Administration with a minor in Criminal Justice from Elizabethtown College. Michelle is a two time Newcombe Scholarship recipient and a member of the Alpha Sigma Lambda Honor Society. For the last seven years, Michelle has been employed with the Donegal School District where she currently serves as the District's Registrar and Instructional Services Secretary. Prior to that, Michelle was employed for three years as a Deputy Sheriff for Lancaster County. Over the years, Michelle's passion for students and education has grown, and through the Business Administration program at Elizabethtown College, she has developed a new passion for business ethics, social responsibility, and leadership. Michelle hopes that her degree will lead her into a position that will allow her to have a positive impact in the lives of others through a leadership role in a school, youth program setting, or corporate setting. Earning her degree has opened the door to many new opportunities, and Michelle is looking forward to what the future holds.
Frequently Asked Questions
How do I order my cap and gown?
Look for complete information regarding Commencement to arrive at your home address no later than early March. If you plan on attending Commencement, the packet will contain information regarding ordering regalia, announcements and info about the Mini-Graduation Fair to be held in May 16 prior to Commencement rehearsal. If you are not planning to attend Commencement, please email Joy Verner at vernerj@etown.edu.
Are tickets required at Commencement?
Yes, Commencement is a ticketed event. Further information regarding the total number of tickets and when they will be available will be communicated to students in mid-April. Ordering your regalia on time, or notifying our office (vernerj@etown.edu) that you do not plan to attend, helps us to determine the number of tickets available for each student.
What honors are awarded by SCPS?
Latin honors are awarded to undergraduate students who have completed 60 or more credits at Elizabethtown College and have earned a GPA of 3.6 or higher. Latin honors are denoted on the graduation program; students who participate in commencement will receive an honor cord to wear during the ceremony.
If an undergraduate student has earned a GPA of 3.6 or higher and completed between 30 and 60 credits at Elizabethtown College, the student will be awarded SCPS Honors. SCPS Honors will be denoted in the graduation program; students who participate in commencement will receive an honor cord to wear during the ceremony.
Graduate students with a 4.0 GPA will have earned honors in their discipline. This will be noted in the graduation program; students who participate in commencement will receive an honor cord to wear during the ceremony.
Military members, past and present, may choose to be recognized with a red-white-and-blue cord to wear during the ceremony. Those who are interested should reach out to Katharine Daniels at danielsk@etown.edu as soon as possible.
Honors will not be announced for graduates participating in Commencement as Early Participants.
Students who are members of Alpha Sigma Lambda are encouraged to wear the stole given to them during their induction ceremony with their Commencement regalia.
How are the student speakers chosen?
Recommendations are solicited from our faculty for student speakers. We have one speaker at the undergraduate level and one at the graduate level. Our faculty know our students well and can share their recommendations based on a student's academic achievements and presentation abilities. Once we have a list of recommended students, we reach out to ask if they are interested in submitting their name and a draft of their speech to the committee for consideration. From this group of interested students, two final student speakers are chosen.
Is it mandatory to attend commencement rehearsal?
It is not mandatory, however, you are strongly encouraged to attend. Rehearsal is an essential piece to assure a smooth commencement ceremony for all students. Cords are distributed and critical information is provided regarding parking and processional order.
Is special needs seating available?
If you need to request special needs seating, please contact Stephanie Hughes at hughesstephanie@etown.edu.