Parking Directions and Map (PDF)
Traditional Graduates
Saturday, May 20, 2017 at 11 a.m.
Location: The Dell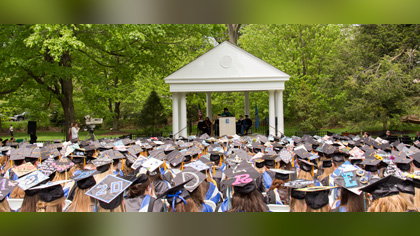 Tickets: are not needed if the ceremony is held in the DELL. Family and friends may sit in the designated seating area (first come first served) or bring their own lawn chairs or blankets to sit in the shaded areas of the Dell. The only

reserved

seating in the DELL is for special needs attendees and our graduates. Please note that seating provided by the College is not in a shaded area and receives quite a bit of sun on a nice day.
Rain location: Thompson Gym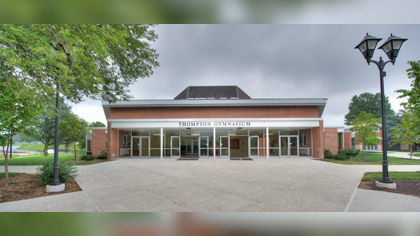 Inclement Weather Hotline: 717-361-1988 or 888-895-0962
TICKETS: THREE tickets per graduate - students should pick up their tickets at the Graduation Fair on March 15, 2017; if you are unable to attend the grad fair, please pick up tickets from Registration and Records or contact them to have the tickets mailed. Graduates should specify if anyone has special needs. Extra tickets ONLY are available through other students who don't need them.
Overflow seating is provided in Leffler Chapel and Performance Center with streaming video of the ceremony.
Rehearsal
Friday, May 19, 2017 at 10 a.m.
Thompson Gym
At rehearsal, graduating seniors will be provided with their line-up order. Students who cannot make rehearsal are responsible for finding out where to line up on graduation day.
Day of Commencement
Commencement is preceded by a complimentary continental breakfast in The Marketplace of Brossman Commons from 7 until 10 a.m. Seniors, their family members and friends are invited.
The Master's Hooding Ceremony for graduating fifth-year Occupational Therapy majors will take place the morning of commencement, at 8:30 in the KᾹV. Family and friends of graduates are invited to join in the celebration. Graduates will receive an invitation to the event and should RSVP with the number of guests in their party to Jean Dietrich at dietrichj@etown.edu or 717-361-1174. A continental breakfast will follow the ceremony.
FLOWERS: half-dozen roses with greens and colorful wrapping ($20), a dozen roses with greens and wrapping ($30), or a colorful Hawaiian orchid lei ($35).
Flowers available at 10 a.m. just prior to the beginning of the Commencement ceremony at the top of The Dell. (During severely inclement weather, they will be sold outside Thompson Gymnasium.) Quantities are limited, so plan to get your flowers early. Sorry, no advance orders.
Boutonnieres on men's robes are no problem.
Parking will be at a premium on and near campus. Arrive early for a convenient spot. Campus Security will be directing traffic on campus.
Those with special needs may be dropped off near the ceremony. Please contact Campus Security (717-361-1000) for details and Registration and Records (717-361-1409) for special needs tickets in the event of inclement weather.
Water stations will be available at the top of The Dell.
Photos by Island Photography – visit the Island Photography website at http://orders.islandphoto.com/Apps/RegisterGraduates.aspx for information.
Wear sunscreen!
Speaker
Lynn Pasquerella, president of the Association of American Colleges and Universities
In recognition of Elizabethtown's 114th Commencement, the College has invited Lynn Pasquerella, president of the Association of American Colleges and Universities (AAC&U), as keynote speaker at the 11 a.m. May 20, 2017, Commencement.
A graduate of Quinebaug Valley Community College, Mount Holyoke College and Brown University, Pasquerella has demonstrated an abiding commitment to making certain all students have access to excellence in liberal education, regardless of socioeconomic background.
Prior to joining AAC&U last year, Pasquerella was president of her alma mater, Mount Holyoke College, a liberal arts institution renowned for educating women leaders.
In her teens, while doing piecework at a light switch factory in Connecticut, Pasquerella learned how women's leadership can empower the most vulnerable members of a community. She continued working at the factory almost full time while attending Quinebaug Valley as a first-generation college student. She went on to earn her doctoral degree in philosophy under a full fellowship from Brown University.
In 1985, Pasquerella joined the faculty at University of Rhode Island. At URI she became vice provost for research, vice provost for academic affairs and dean of the graduate school.
She was named provost of the University of Hartford in 2008 and, in 2010, was appointed as 18th president of Mount Holyoke. Pasquerella will receive her first-ever honorary doctoral degree.
Speaker for the College's School of Continuing and Professional Studies at the Edward R. Murphy Center (SCPS) Commencement is James Fritz, an alumnus of the School, a trustee of Elizabethtown College and a former attorney with McNees Wallace and Nurick in Harrisburg who earned his J.D. at Dickinson Law School of Penn State University. The SCPS Commencement takes place at 4 p.m. Saturday, May 20, in Leffler Chapel and Performance Center.