Parking Directions and Map (PDF)
Traditional Graduates
Saturday, May 18, 2019 at 11 a.m.
Location: The Dell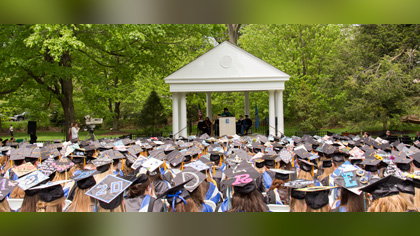 Tickets: are not needed if the ceremony is held in The Dell. Family and friends may sit in the designated seating area (first come first served) or bring their own lawn chairs or blankets to sit in the shaded areas of the Dell. The only

reserved

seating in The Dell is for special needs attendees and our graduates. Please note that seating provided by the College is not in a shaded area and receives quite a bit of sun on a nice day.
Rain location: Thompson Gym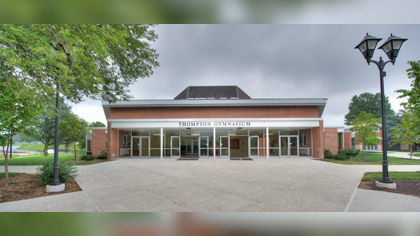 Inclement Weather Hotline: 717-361-1988 or 888-895-0962
TICKETS: THREE tickets per graduate - students should pick up their tickets at the Graduation Fair from noon to 6:30 p.m. on March 13, 2019; if you are unable to attend the graduation fair, please pick up tickets from Registration and Records or contact them to have the tickets mailed. Graduates should specify if anyone has special needs. Extra tickets ONLY are available through other students who don't need them.
Overflow seating is provided in Leffler Chapel and Performance Center with streaming video of the ceremony.
Rehearsal
Thursday, May 16, 2019 at 10 a.m.
Thompson Gym
At rehearsal, graduating seniors will be provided with their line-up order. Students who cannot make rehearsal are responsible for finding out where to line up on graduation day.


Hooding Ceremonies and Receptions
Friday, May 17, 2019
Gibble Auditorium, Masters Center
Light receptions to follow each ceremony in the Mineral Gallery, Masters Center
1 to 2:30 p.m. Occupational Therapy; reception 2:30 to 3:30 p.m.
3 to 4 p.m. Political Science; reception 4 to 5 p.m.
4:30 to 5:30 p.m. Education; reception 5:30 to 6:30 p.m.


Day of Commencement
Commencement is preceded by a complimentary continental breakfast in The Marketplace of Brossman Commons from 7 until 10 a.m. Seniors, their family members and friends are invited.
FLOWERS: half-dozen roses with greens and colorful wrapping ($20), a dozen roses with greens and wrapping ($30), or a colorful Hawaiian orchid lei ($40).
Flowers available at 10 a.m. just prior to the beginning of the Commencement ceremony at the top of The Dell. (During severely inclement weather, they will be sold outside Thompson Gymnasium.) Quantities are limited, so plan to get your flowers early. Sorry, no advance orders.
Boutonnières on men's robes are no problem.
Parking will be at a premium on and near campus. Arrive early for a convenient spot. Campus Security will be directing traffic on campus.
Those with special needs may be dropped off near the ceremony. Please contact Campus Security (717-361-1000) for details and Registration and Records (717-361-1409) for special needs tickets in the event of inclement weather.
Water stations will be available at the top of The Dell.
Photos by Island Photography – visit the Island Photography website at http://orders.islandphoto.com/Apps/RegisterGraduates.aspx for information.
Wear sunscreen!


Speaker
Lisa Aukamp Payne '80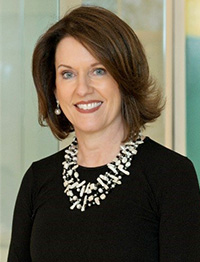 Payne served as Vice Chairman and CFO at The Taubman Centers, Inc. for more than 19 years successfully leading financial operations. Before joining Taubman Realty, she was vice president, Real Estate Department, at Goldman Sachs for 10 years. There, she led acquisition and development financing, merger and acquisition advisories, as well as public and private debt and equity offerings.

An alumnae of Elizabethtown College, Payne also earned her MBA from Duke University's Fuqua School of Business.

Payne is a member of the Etown Heritage Society. She is a supporter of The Bowers Center for Sports, Fitness and Well-being, the James B. Hoover Center for Business, the Jay Walk Project, Gibble Renovations and the Elizabethtown College Fund. Payne currently serves on the College's Leadership Council, and in 2006 received the Professional Achievement "Educate for Service" award.

Payne currently is a member of the board of directors of Masco Corporation, Rockwell International, and J.C. Penney. She also is an active philanthropist and leader in her Michigan community where she lives with her family.

As part of the graduation ceremony, Elizabethtown College will acknowledge the work of Lisa Aukamp Payne with an honorary degree.